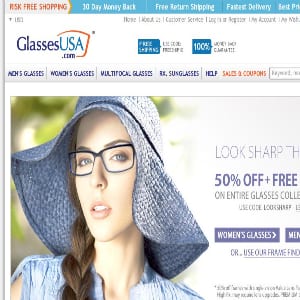 The concept of Glasses USA is that you can save on eyewear compared to buying it from local eyeglass shops, and other online retailers. Sounds great for those in the market for spectacles, but how well does it really work at keeping more money in your pocket?
Overview
Money saving sites are big right now, and this is one that represents a specific niche where it's altogether too easy to overpay for a pair of glasses. Places like LensCrafters and America's Best do a decent job of creating the idea that you're getting a good deal, but they still leave plenty of room for a site like GlassesUSA to come along and offer rock-bottom prices on the most popular and in demand frames out there.
The Claim
They claim savings of up to 70$ off retail when shopping at Glasses USA which sounds amazing, since eyewear can really add up, especially when you are looking at designer frames. Being able to look good in your new glasses is important, so you want to go with some of the more current designs, and it just so happens that the ones that look the best usually carry with them a higher price tag. It's nice to think that you could end up with a pair of great looking frames for the same price as the bargain brands you find in stores.
The Hype
Everybody likes a good deal, and when you're shopping around here you'll feel like you're getting your frames at the lowest price possible. This helps cut down on buyer's remorse later because you won't be sitting there wondering if you just paid more than someone else for the exact pair of glasses.
The Cost
They have frames starting at $38 and going up from there. The thing is that even when you're buying their lowest-priced frames you might be paying twice as much somewhere else for the same glasses. That represents a cost savings, and so it's free to use the site, and in fact it ends up allowing you to keep more of your hard-earned money.
The Commitment
It's nice because this is a straight up deal, you're not committed to buying a membership in order to get the savings, and there are no recurring charges or commitments that you have to make in order to enjoy the deals they have.
Evaluation
They do have a pretty extensive collection of frames, and cover everything you need in the world of eyewear, from sleek and sophisticated frames to sunglasses. The feedback from customers that have used it to purchase their specs has been overwhelmingly positive, according to third party reports from those that don't have a vested interest in the company. They're able to tell it like it is and describe the kind of quality of the frames you receive, and also to judge whether it is the exact frames sold for more at other sites.
So the question is: how can a site like this sell glasses for so cheap and still be able to make a profit. The answer is that with some industries there is such an inflated overhead compared to the cost of manufacturing that there is too much wiggle room left for a site to come in and undercut the competition. With many people making the switch to contacts, glasses are becoming less and less of a hot item, and the competition is getting more and more fierce among designers and manufacturers. Therefore what we're seeing is better looking glasses and more affordable prices than we saw 10 years ago.
One nice feature is their frame finder, which will help you drill down to a selection of potential perfect frames for you. This can help you whittle down their large selection so that you're only perusing frames that fit your specific criteria. This is especially helpful when you show up not really knowing exactly what you want, and seem overwhelmed by the number of choices. It helps dramatically to remove some of the clutter so you're not looking at frames that just don't work for you.
Aside from that you're able to search pretty effectively by selecting the price range of frames you want, the color, and even what kind of material you want your glasses to be made out of. All of this makes your decision that much quicker to make when you are choosing between 3 frames instead of 300.
Final Glasses USA Review
Glasses USA is a great place to start when you're shopping around for eyewear, and after an extensive search and comparison between different sites, we were unable to find another location that offered the same brands of frames for less. So this makes it a great site to use as a starting point because you'll know how low you can get them, and you can get all the details on a frame from the manufacturer's website, but then make your purchase at Glasses USA.
Our Recommendation
Contacts may be very popular, but if you're going for that sophisticated look then you owe it to yourself to check out this site and see what's on offer and for what price. Since they don't ask you to sign up as a member in order to see what they're offering, you can check here first, or check here after you find the frames you want at another site to see which has the best price, either way it's worth bookmarking.
What do you think? Does Glasses USA save you money or not?