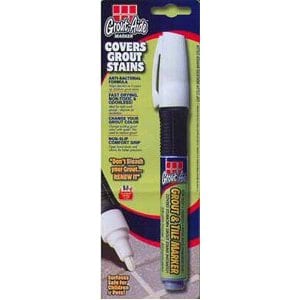 Grout Aide puts the power of covering up your grout into a pen-sized applicator. With most grout products out there getting the grout cover-up onto the grout is the hardest part of all, but we all know how to use a pen. It was pitched by Billy Mays as a way to avoid using a toothbrush to scrub in between your tiles. So the only question is does this actually work?
Overview
When it comes to your grout there are several options for you to choose from. You can either stay on top of it trying to keep it clean 24/7, or you can bleach it when it gets really bad, or you can use a cover-up to try and hide the stains and grime that accumulate over time. With Grout Aide they're saying that you can restore your grout previous color without having to scrub it and without having to cover it up.
The Claim
The claim is that you don't have to bleach your grout anymore, you can just restore it with Grout Aide. they say if you can draw a line you can re-grout your bathroom or kitchen. If a you don't want to use bleach because that can turn your grout yellow, and also it can be dangerous because of the fumes. Grout Aide is odorless so you don't have to worry about using it in confined spaces.
The Hype
Billy Mays was a master pitchman and so almost anything he sold had some hype associated with it. Something as simple as routed to gone a whole another level just by the way he presented it.
The Cost
Grout Aide is $42 for six markers, or about seven dollars per marker. You can choose from white, gray, black, and buff which is like a beige color.
The Commitment
They've tried to make it as easy as possible to use Grout Aide, putting the applicator in the form of a pen makes it possible. You don't have to fuss with any creams, gels, puddies, or anything else that can make a big mess. Everything is self-contained in the pen, and you just draw lines like you would with a pen and paper. It's also a one step process, so you don't need to come back and reapply it, or cleanup the excess, or first clean the grout and then put on the cover up.
Evaluation
Grout Aide comes in many colors, so depending on what the theme is in your bathroom, or what you were grout was originally, you can match it and make it look like new. The consensus is that Grout Aide works on certain types of grout, like smooth grout, but if your grout is textured it will have more of a problem. Some have complained about the amount of cover-up that comes out of the pen, saying that it isn't enough if the job done. Others have said they've made their floors look brand-new just three markers.
You have to remember that as easy as they have made it, this is still work and it is time consuming and boring. You should still treat you like a project, and expect to get your hands a little dirty during the process. Demonstrations done on TV are intentionally made to make you look easy and the situation has been set up so that the product works flawlessly under optimal conditions.
Final Grout Aide Review
It's normal for a product like Grout Aide to have mixed reviews, because not all grout is created equally and there are different textures and varying levels of stains. Overall we believe that it's a good product and one that will work for most people when applied correctly. Of course there will be those out there that find that it doesn't work as depicted, either because of their specific situation, or maybe they got a faulty pen, but for the most part this seems like a good buy.
Our Recommendation
If you have a smooth route between your tiles, and a relatively small area to treat, we recommend going with Grout Aide as your solution. A pack of six markers would get the job done, and also leave you a few backup markers for touch-up jobs as needed.
What do you think? Does Grout Aide work or not?