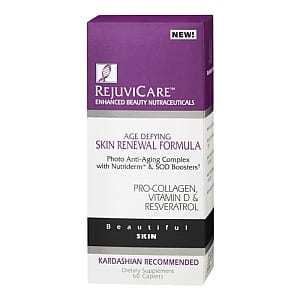 RejuviCare is heavily endorsed by the Kourtney Kardashian and her mom Kris Jenner. it is a product that promises better looking skin, hair, nails at an affordable price and using natural ingredients. Many women have tried it and the results are in, so does this end up on our Wall of Shame, or can you rely on this as your one-stop to healthy looking skin?
Overview
There has been a big influx of anti-aging products in the market in recent years. It's always been a big industry, but it's getting bigger every year, and will continue to grow probably for the next 10 to 20 years as baby boomers continue to age and spend their disposable income on products designed to keep them looking like they did years ago. Many of these products get mixed reviews, mostly because of all the features they claim and promises they make.
The Claim
They say that their beauty supplements work from the inside because that's where aging problems start. They claim that their products use advanced technology, and that they restore or revive your skin by providing cutting-edge hydration and fighting oxidation at a cellular level. They also say that you will be reinforcing our bodies natural defenses against showing signs of aging.
The Hype
Any time the Kardashians are involved with a product, you know that some hype will come along with them. This one has Kourtney Kardashian, and the mom Kris Jenner promoting the products. Not only that, but anti-aging products also have their own bit of inherent hype because they are marketed towards an aging baby boomer population.
The Cost
The price is right when it comes to RejuviCare. You can usually find it for around $10, and if you're lucky enough they run promotions at retail stores that allow you to get it close to free.
The Commitment
With all skin care products you have to be committed to using it, and this is especially true with RejuviCare products, although they've made it pretty easy to use because you just have to bring the liquid, or swallow the pills. It doesn't seem that they are advocating using only these products, so you can treat your skin from the inside as well as the outside.
Evaluation
RejuviCare comes in three different formulas depending on which area you want to focus on. Each product has a different delivery method, with some being an ingestible liquid, and others taken as a pill or capsule. You can take all three together, or you can just take one and focus on a specific area.
Collagen Beauty Formula – Collagen is well-known for its ability to rejuvenate the skin and fight the effects of aging. This is a drinkable formula that is grape flavored, and it is unclear what sort of job it does in improving the appearance of the skin overall, and especially on the face.
Hair and Nail Formula – The RejuviCare website claims that your hair and nails are the first tipoff to the overall health of your body. If they show signs that they are not at their healthiest, it could be indicative of other health problems or problem areas.
Skin Renewal Formula – These are capsules that you take in order to renew your skin from the inside and out. Most skin care products that promise some form of renewal usually take a topical approach and involve creams or lotions. This is unique in that you take it in pill form and it is supposed to provide your body with the necessary nutrients to create better skin.
What People Are Saying
Beauty products are notorious for having mixed reviews, because results are so subjective. Some people might think that a product is doing a good job, while others might see the same results and be disappointed. With RejuviCare some people have said they've used it religiously for over a month with no visible results, while others say that it is the best skin care product they've ever used.
Final RejuviCare Review
When you strip away the hype, and look at the raw data and real reviews coming in from women that have tried it, there seems to be little in the way of any proof these products work. That being said, there are also those that have tried it and were happy with their results. This is something you really want to try, we support you, but we definitely don't guarantee you'll be happy with the results you get.
Our Recommendation
Products like these make it seem like they are the end-all be-all to fighting the signs of aging. It's important to remember that few products out there are miracle workers. If you go into this with a level head, and have reasonable expectations you'll probably be satisfied. But if you think that it's going to give you a makeover and a bottle, you might be disappointed. In the end, it's not very expensive to give it a try, and since it's naturally based there is little harm in trying it.
Check out the RejuviCare reviews on Amazon to get more user feedback.
What do you think? Does RejuviCare work or not?