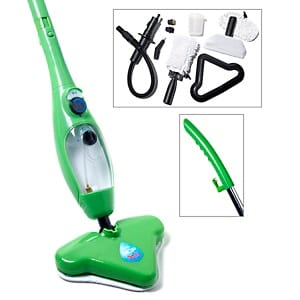 If you've seen the ad for the H20 X5 Steam Mop on TV, you probably said to yourself to look into this further. They make it look like it will magically clean your home without a lot of effort on your part. But by now we're used to seeing products work wonders on the tube, but fall short when you try it out for yourself. So is this bound for the rubbish bin if you try it, or does it live up to its promises?
Overview
This is one of those items that claims to be able to do it all. That's how it got the name X5, because you can use it five different ways. Most of the time when products try to be a Jack of all trades, they end up not living up to expectations. So if you're going to try this out, pick one major use that you're most interested in, and test it out for that. It's the best way to know if you've made the right decision, rather than thinking that you'll use it for all of your different cleaning needs, and then realizing that it spends most of its time just doing one thing.
The Claim
H20 X5 Steam Mop claims that the unit sends 1300 watts of steam to loosen up the dirt, and then the pad comes by to wipe it all up. They say that you can do 5 uniquely different things with it. It can supposedly clean your carpets and floors, be used as a hand-held steamer, clean windows, mirrors, and glass, and even steam your clothes.
They've equipped it with a dial so that you can vary the amount of steam that comes out, which is very important when switching between different surfaces. Some surfaces take a lot of steam, while others will just need a little bit. And when you have a stuck on stain or dirty area, you'll want to blast it with a good dose of steam.
They say that it reaches a top temperature of 230° and with the microfiber cloth, it gets surfaces cleaner than traditional methods, and doesn't require the use of chemicals. This makes it a "green" item, as you don't have to introduce more harmful materials into the environment, you can use simple tap water.
The Hype
The hype comes from the thought they implant in your head that you'll actually use this 5 different ways. Most people will probably be using this on their floors mostly, and occasionally on all of the other stuff they say it can clean.
The Cost
H20 X5 Steam Mop is $200, which can be broken up into payments of $50. They are currently including an X5 vacuum unit as a bonus, which is actually free, you don't have to pay shipping on it. There's a 30 day guarantee so you can try it out, and see how you like it without worrying about losing your money.
The package comes with the steamer unit, as well as attachments so you can clean your carpets, an extension hose so you can carry it around to your furniture, a jet nozzle, as well as several different heads to change out when you change jobs. There's also a duster, and cleaning pads specifically for glass. You don't have to upgrade your order to get all of this, it's already included in the base price.
The Commitment
This should lessen the amount of time you spend on jobs you already do, but it might end up getting you to do more jobs. Once you start using it, you might be tempted to try out all of its functions and find that you're steam cleaning your sofa before you realize what you're doing.
Evaluation
The H20 X5 Steam Mop has gotten mixed to negative reviews, with several people saying that it is a piece of junk, and not worth buying. However, it has also gotten a lot of people praising it for working just like it is described. These are actual users, and not just people that are shills of the company, so it probably does work in most situations. With a product like this you have to be aware that there are cheap knockoffs and imitations trying to steal sales away from the original manufacturer. Many of the negative reviews were not verified, so it is possible that they were not using the original H20.
Final H20 X5 Steam Mop Review
The H20 X5 Steam Mop is worth considering if you're in the market for a steam cleaning mop, or just a steam cleaner in general. At this price point, you should consider that you are getting a few different tools in one. This might prevent you from having to make multiple purchases, and break out additional cleaning items while you are cleaning up the home. The power of steam has been shown to really get your house clean, and actually serves to sterilize it as well. It doesn't use any chemicals and it's a great way to sanitize things, especially if you have a toddler crawling around.
Our Recommendation
If you are in need of a high quality steam cleaning mop then you can put this on your list of options, but there are others that you should consider first. The Shark Steam Pocket Mop is one of our top recommendations, as it offers most of the same features seen here, but has received more praise from those that have used it.
What do you think? Does H20 X5 Steam Mop work or not?