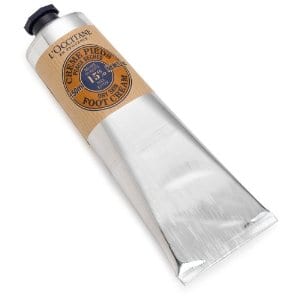 If you're considering L'Occitane Foot Cream to restore your feet, you're probably wondereding if all the positive reviews are legit. L'Occitane is a French company that produces a large line of different skin care products, using mostly naturally sourced ingredients. But can a foot cream really be this good, and is it something that you should buy in order to get your feet back to their soft, natural state.
Overview
Having dry, cracked feet is no picnic, and there are hundreds of different foot creams out there all promising to restore your feet back to their original softness. However, some do better than others at tackling things like rough spots and calluses. Finding the right cream for the job can be tough, and you might go through bottle after bottle, and tube after tube with no luck. There has been a lot of high-quality dreams coming out lately, so it's more a matter of learning which ones to avoid. We would definitely put this on your list of ones to try.
The Claim
L'Occitane Foot Cream claims that this will provide you with the relief you're seeking as well as a general feeling of well-being. They say that it contains essential oils and extracts that help to purify your feet and lessen the irritation and redness that can occur. They claim that it has a solid base of Shea butter, so that you'll experience greater amounts of comfort, and it even includes mint so that your feet will feel a cooling effect.
But that's really all they claim, and they don't go overboard or exaggerate just how fantastic your feet will feel after you get done using their cream. They do a good job of just presenting their product and listing the ingredients it contains.
The Hype
This is just a foot cream, so it's pretty impressive that it has generated its share of hype. It's good hype though, in the form of word-of-mouth recommendations from people that have actually used it. It is not the sort of self generated hype that some companies use to sell their products.
The Cost
You can pick up a tube of L'Occitane Foot Cream for $26 for 5 ounces at Amazon. If you just want to try it out there is a one ounce tube that sells for $15.
The Commitment
All that's really required of you is to apply the foot cream to your feet whenever you think they need it. As you use it consistently, you should end up having to apply it less and less as you go along. The first few times might just be getting your feet back to a better state, and maintaining them should be easier.
Evaluation
They've cracked the moisturizing code with L'Occitane Foot Cream. Users resoundingly say that this has brought their feet back to life, and softens them up to the point of being just like new. This is one of the best reviewed foot creams we've ever seen, with hardly anyone complaining about it not working. Even the people that don't love it like it enough to buy other L'Occitane products. It's important not to get your hopes up too high, and to think that this is a miracle product that will work wonders on your feet the first time you use it. Just keep up with the applications and in a short while you'll be happy with the condition of your feet.
The War with Your Feet
Feet take a beating, and you probably don't pay them a lot of attention until they start acting up on you. Because they are always rubbing up against things like the floor, or shoes, they end up forming rough calluses that will require your intervention at some point. The best way to get your feet to a healthy state is to keep up with them regularly. Maintaining a nice pair of feet is far easier than having to undo weeks or months of neglect.
Final L'Occitane Foot Cream Review
We're giving L'Occitane Foot Cream our nod of approval, as it has received more than its fair share of positive reviews, and contains ingredients that are known to help moisturize the skin. By going with a foundation of Shea butter, but also mixing it with Lavender and other extracts, they really hit the nail on the head here.
Our Recommendation
To get perfectly cared for feet, you need to combine a few different methods. First you should file down your calluses with something like a Ped Egg, and then you should apply a high quality foot cream to the newly revealed skin below. This one-two punch can turn even the roughest feet into baby soft feet in no time. And once you get on top of it, it's much easier to maintain the look and feel of healthy feet.
What do you think? Does L'Occitane Foot Cream work or not?