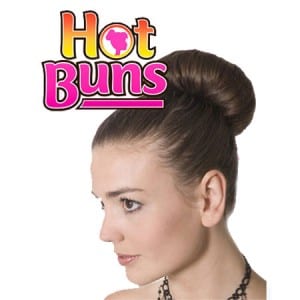 No, you can't eat them, the Hot Buns Hair Accessory is a way to keep your hair in a bun without the problems that usually arise from traditional methods. If you're tired of struggling with hair buns, of you've found yourself not putting them in because they're such a pain in the, well, buns, then you probably wondered if this is a product you should buy or not.
Overview
Hair accessories are very popular these days, and for good reason. Clever female inventors are coming up with ways to tackle some of the biggest hair styling problems that women face on a regular basis. They've come up with ways to braid hair more easily, put in a pony tail that stays in place, and even how to add a bump to your look without needing a ton of hair. Beauty and fashion products will always be hitting the market, and hair is such an important part of your overall look.
The Claim
Hot Buns claims that they've figured out an easy way to give you the glamorous look of a bun in your hair without the typical struggle that comes with it. They also say that it will stay in place throughout the event so you don't have to worry about it coming undone at the wrong moment.
The Hype
There's an accompanying infomercial that goes along with this product and it's effective at showing the different ways you can use it, including showing you how to use all three sizes that it comes in, and even a tip on how you can get other styles by sleeping with your hair in a bun overnight. They show a model doing a flip with a bun in her hair to show just how well it stays in place.
The Cost
The total cost for the Hot Buns hair accessory set is $26, but you get a total of 6 of them, 2 of each size all in the same color. This will give you plenty, and you can even go in on it with a friend if you both have the same hair color. It also comes with a style guide so you won't be lost for idea when you get it. It can be fun going through and trying the different styles so you can have them in your memory banks for later.
The Commitment
This should definitely save you getting-ready time, as it goes on in just a few seconds. It can also give you some peace of mind knowing that your hair still looks good even after moving around a lot. Its biggest pitch is that it makes the process easier, and of course they make it look as easy as possible in the promo video. It does some getting used to once you get it at home, with a little bit of practice it soon becomes easier to use and you'll be a virtual pro in short order.
Evaluation
Since putting your hair in a bun can be one of the most tedious styles to accomplish, but looks so good once it's in place, the Hot Buns system does its job by getting it down to a few simple steps. If you've ever braided your hair and slept with braid overnight to get the crimped look the next day, you'll relate to their tip on putting your hair in a bun while you sleep to get that curly chic look the following day.
Final Hot Buns Hair Accessory Review
The Hot Buns hair accessory is getting our Thumbs Up based on how well it solves the problem of getting your hair in a bun. The price is reasonable and we recommend finding a hair buddy to go halves with so that you get just the one set for $13. You can't wear more than one size at one time so it doesn't really make sense that they force you into the second set "free" but this is such a popular way to sell TV products that it's become the norm. You may find yourself coming up with reasons to wear a bun, or you might even embrace it as your new signature look.
Official Website: Hot Buns
Our Recommendation
When it comes to getting a great hair style each day you don't want to rely on just a bun. The best strategy is to have as many hair tools as possible in your toolkit, and create a fresh new look to go with your outfit, the season, or for a special event or party. We've covered several hair accessories that you might want to take a look at including Easy Combs that can put your hair in several different styles, Bumpits that can give your hair a faux bump, and Instant Feather Extensions that can let you get in on the feather trend.
What do you think? Does Hot Buns Hair Accessory work or not?