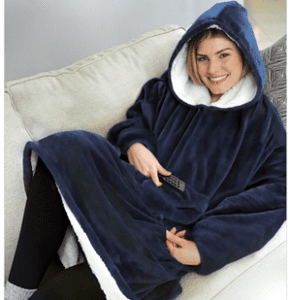 When there is a chill in the air, or someone is tired and feeling a bit cold the first thing they may head for is a soft comfy blanket. This is great but there is a more convenient way to get some extra warmth without having to bundle up in a heavy bulky blanket. It may be the Huggle Hoodie.
Overview
The Huggle Hoodie is like an oversized sweater or jacket or even can be thought of as a compact blanket. Which comes with a lot of great benefits. It is made of a lush luxuouious material and lined with additional warming materials.
The Claim
The promoters of the Huggle Hoodie say that this product has been made for warmth, comfort and convenience. It also has a hood and the Huggle Hoodie is reversible.
The Hype
The hype that comes with the Huggle Hoodie is that it is convenient. It is made of quality materials and is machine washable.
The Cost
The cost for the Huggle Hoodie is $29.99 plus $9.99 shipping and handling. If you want to pay for the extra shipping you will get a second one free. This of course depends on where you want to buy it. You can buy it direct or from stores like Walmart or other stores that carry the As Seen on TV items.
The Commitment
The commitment for the Huggle Hoodie is a simple one which is just making good use of it. Keep it out in the open so you will have easy access to it when you want some extra warmth. It can be neatly folded up and put on the end of the couch when not in use.
Evaluation
Anything that is affordable and going to provide you with some quick extra warmth and comfort is well worth it. The Huggle Hoodie comes in three colors which are burundy, blue and grey. It is machine washable which makes it easy to care for. It looks nice to when being worn. The one side is comprised of a fleece type while the other side is Sherpa. Some of the extra benefits that come with the Huggle Hoodie is that it is large enough to allow for movement but not so large that it is cumbersome and will cause you to trip. You can get up and move around in it with no issues. This is not something that is easy to do when using a blanket. It is perfect for when you get out of the shower and want to bundle up in something warm or cozy. Or it can be slipped on over your clothes or PJs. It also also a large pocket so you can carry around some of your personal items like the TV remote or your cell phone or table.
Final Huggle Hoodie Review
We are going to give the Huggle Hoodie a thumbs up. It is reasonably priced and is something that can be put to good use.
Our Recommendation
There are other products on the market similar to this like the Snuggie which you may want to take a look at for comparison.
What do you think? Does the work Huggle Hoodie or not?