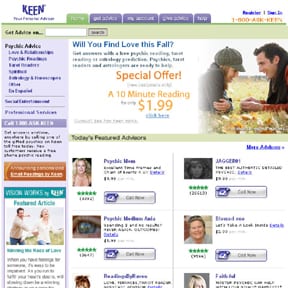 Keen Psychic Readings basically works as a marketplace for freelancing psychics to offer you their advice and guidance.
Overview
The world we live in is full of mystery, and many people report being effected by unseen forces. It doesn't take a big leap to think that there are things out there that are effecting our lives, but we can't see them. Gravity has a strong effect on our everyday lives, but we can't see it. Radio waves allow us to do all sorts of things, and we can't see them. Even magnets have very powerful abilities and we can't see the forces at work. So why do people have such a hard time thinking that there may be things that others can see that not everyone can?
The Claim
Keen Psychic Readings says that they are the home of those that can give psychic readings, as well as astrology and tarot readings. They also feature those that specialize in giving love advice, and also provide free horoscopes. Most, if not all of these services have been under a lot of criticism for being quackery or just for novelty purposes. But settling the debate on whether or not this stuff works is beyond the scope of this page. We're just trying to evaluate whether or not this is a good service that provides quality to the people that use the site.
The Hype
The hype is that there isn't really a lot stopping someone from getting signed up as a psychic and offering their advice to people. Bad reviews should send most amateurs packing, and only the good psychics should remain.
The Cost
Each psychic gets to choose their own rate at Keen Psychic Readings, and this is always displayed for you so you can use it to make your decision right from the start.
What They Provide
This is basically a marketplace for psychic readers. Rather than try to find them on your own with a Google search, they feature them all in one directory and let you narrow down by what it is your looking for. You can then explore your different options and with a quick glance get a good idea on what sort of experience others have had.
Evaluation
Some of the psychics on Keen Psychic Readings have tens of thousands of reviews, and still manage to get high ratings. That is statistically speaking, hard to do. That means that they are able to get it right a lot. If there were only a few glowing reviews, you could be suspicious that they just had their friends and family leave positive feedback, but when there are thousands, or ten thousand, that would be pretty hard to fake.
The service that Keen provides is a good one, and they even give you tips on how to get the most out of your reading. Their site is has been around long enough for them to figure out what information you need to know about a psychic, and what info you don't so you can make a very informed decision on who to go with in a very short period of time.
Can This Change Your Mind on Psychics?
Many people think that psychic readings are hogwash, and that the only people they help are those that are desperate enough to fall for the tricks used by "psychics" to make you believe that they are giving your advice based on what they see. But with so many of these psychics getting 5 star feedback from so many different transactions, it would mean they're either really good at tricking people, or they really do give good advice. That's left for you to decide.
Final Keen Psychic Readings Review
If you find some really good readers, Keen Psychic Readings can be very accurate. Regardless of where you get your life advice, it's always nice to get guidance on where you're going in life, and make sense out of what is happening to you right now. Either you'll agree or disagree with what they're saying, but either way you'll figure out more about yourself, and be able to frame occurrences in your life in a better way. Many times they will be able to provide insight to you simply because they are an objective person, and don't have biases towards you by being your friend or a family member.
Our Recommendation
You shouldn't have to pay a ton in order to get a reading, and they shouldn't try to keep you on the line with stalling tactics either. You want a reader that will get to the good stuff within that first minute so that you can decide if you want to continue on and get even more great information. The best way to use this service is to develop your own list of preferred readers that are in your price range and that have lots of positive reviews.
What do you think? Does Keen Psychic Readings work or not?