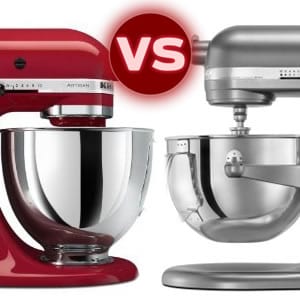 The KitchenAid Artisan Stand Mixer vs. Professional 600 Series choice can be a stumper, but there are a few ways to determine which one you should get. The good news is that you'll likely be happy with either one, so its not the most stressful decision you'll have make.
The Tale of the Tape
OK, so you know you want a KitchenAid mixer, but you just don't know which one. KitchenAid has basically cornered the market when it comes to mixers, and offers a wide range of them, not only in different colors, but in different capacities and features.
Artisan Stand Mixer Weigh In
This is the classic mixer that hasn't really changed in appearance for decades, and is trusted by many cooks and bakers for its power and reliability. It's one of the top-rated mixers with a very high percentage of user satisfaction. In fact, it rates so highly that the negative reviews it gets can be chalked up to user error or a defective model. When cooking and baking precision counts, so you want a mixer that can produce consistent results each time you use it, and that's the case here.
Professional 600 Series Weigh In
Any time a product is bold enough to put the word professional in its name, it is taking on the burden of having to work as good as the top of the line equipment found in restaurants, and used by professional caterers and chefs. If you've got your eye on this model you likely fancy yourself a professional gourmet, and you are wanting to emulate the celebrity chefs you see on TV. This model isn't pulling any punches, and says it can stand toe to toe with any of the higher-end mixers on the market.
Cost Comparison
This is where the Pro 600 starts to show its pedigree, with a price to match. With a retail price of $570 we were able to spot it for $430 at Amazon. Comparing that to the Artisan line with a retail of $430 it's on Amazon for $323. That's a significant price difference, and only those that are going to use the extra capacity and extra features of the 600 Series would benefit from the extra expenditure.
Where They're Similar
They both share many of the same features, and you'll be able to accomplish many of the same tasks. They look very similar, and come in many of the same colors. Many users of both have said that they could only tell the difference when the jobs got to be too big in scale, and that's when the Artisan mixer started to lag behind. But you can't expect a machine to work beyond its capacity and still produce reliable results.
Since they're both made by the same company, and one that's been around for several years and stands behind their products, you're getting the same warranty and peace of mind knowing that you're getting a quality machine. This is a big factor, since if you want to add accessories to your mixer later you'll be able to find them easily since it's such a popular brand.
Where They're Different
The major difference is how much you'll be able to do at one time. The 600 Series has a larger capacity for things like making cookies, making dough for bread, mashing up potatoes, so if you're feeding a large family, or are getting into catering, you might find it useful to make more in one go than having to repeat the process again and again for big projects. The 600 Series also has a more modern look, and tries to don its professional persona in order to help justify its extra cost.
Final KitchenAid Artisan Stand Mixer vs. Professional 600 Series Match-Up
These two mixers don't hold any punches, and you're going to be getting a great mixer no matter which one you ultimately go with. It's really a matter of sizing up the sort of jobs you expect it to do, and deciding which one fits your lifestyle and your needs the best. They're both going to mash the potatoes to a wonderful whipped consistency, get the cookie and bread dough just right, and leave no lumps in the gravy.
Are you the one that hosts Thanksgiving or Christmas dinner each year? You might want to opt for the Pro 600 model. Even though it's made for bigger jobs, it handles smaller ones quite well, so you don't have to worry about the other 364 days of the year, it will meet your needs any night of the week.
When looking at the total picture, it seems to come down to two factors that will vary from person to person: the size of the mixer budget, and the size of the group being fed. If price is a factor you should get the Artisan and never look back, but if you have the inkling that it won't be able to keep up with the amount of cooking that you do, get the Pro and you'll be a happy camper.
And the Winner Is…
Dollar for dollar we're giving the victory to the Artisan model, based on it being able to do just about everything the Professional 600 Series can do, just on a somewhat smaller scale. For a large percentage of American families the Artisan line will satisfy all of their needs. If you're feeding an army or are going to be using the blender for your business, you should upgrade to the Pro 600, as it's a fine blender with excellent reviews. But for an apples to apples comparison you should size it up against competing professional mixers.
If you've had trouble in the past with ordinary-grade mixers, go for the Pro model because it doesn't leave anything on the table and is still a good value for the money. It's a mixer that you don't have to worry about replacing for a very long time, and many users report having their KitchenAid mixers for several years, even over a decade, so the cost isn't such a factor when spread over a long period of time.
What do you think? Which Works Better, the KitchenAid Artisan Stand Mixer or the Professional 600 Series?