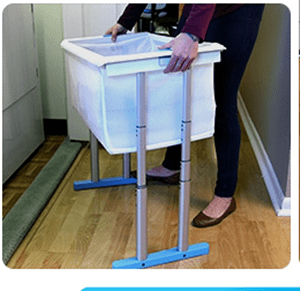 With all the modern appliances that we have access to doing the laundry should be a super easy task. But, for many, it is a task that they find difficult. One of the problems is dealing with the laundry basket. A solution that addresses this problem may be the Laundry Legs.
Overview
The Claim
The promoters of Laundry Legs have nothing but good things to say about this product. They are stating that it is really easy to use. It has telescopic legs that allow the basket to be adjusted to different sizes. It is made of quality materials and folds up for easy storage.
The Hype
The hype concerning the Laundry Legs is that it addresses several of the inconveniences that come with doing laundry.
The Cost
The cost for the Laundry Legs is $39.99 plus $5.99 shipping and handling. The order includes a buy one get one free offer. This would make a great gift if you didn't need a second one.
The Commitment
The commitment for the Laundry Legs really comes down to making full use of it. A lot of us have a tendency to buy a great item like this then use it once or twice and store it away.
Evaluation
There are a lot of great features about the Laundry Legs. One of the biggest benefits is that it stops all that bending over that usually takes place with the laundry. Once it is taken from the dryer, then there is the constant bending over to get each piece of clothing to fold it. With the laundry legs, it is easy to reduce the size to the carry mode. Then when you are ready to fold just extend the legs to the height that is best for you. These built-in legs are lightweight but sturdy. It really is user-friendly too because all it takes is the press of a button to extend or reduce the legs. Then an additional benefit is that it folds up for easy storage. No longer do you have to worry about having large laundry baskets sitting on your washer or dryer.
Final Laundry Legs Review
The Laundry Legs may seem like a gimmick product. For those who have issues with the standard laundry baskets they soon can see that this product has some good uses. For those who have limited mobility, this may be an ideal solution for helping them deal with the laundry day discomfort. Overall we are prepared to give the Laundry Legs a thumbs up.
Our Recommendation
There are other circumstances where lifting and transporting items can be a real hassle. For those situations, you may want to check out the Smart Cart.
What do you think? Do Laundry Legs work or not?