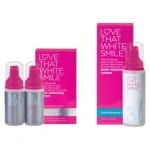 Teeth whiteners have been a source of frustration for many, and that's what Love That White Smile hopes to change. By bringing the price down to something manageable, and making the application process as easy as possible, they are winning fans and whitening smiles across the country. But does it work as well as it's being claimed to, and is it was easy to apply as they make it seem.
Overview
The biggest complaints people have when it comes to whitening their teeth is how awkward, expensive, and ineffective the at-home kits are, how expensive the dentist's treatments are. Another problem is that your teeth will revert back to their old color over time, creating the need for more treatments.
Because of this, many people just avoid getting their teeth whitened, and live with a smile that they are not happy with. Taking advantage of all of these drawbacks, Love That White Smile is hoping to change the way people think about at-home whitening kits, and create a loyal following of believers.
The Claim
Love That White Smile makes some pretty good claims about their product. They say that it is simple to use because it comes in foam form so you don't have to mess with gels, creams, powders, or other whitening methods.
You can apply the solution right to your toothbrush, so you're already familiar with the way it works. By not having to use strips, trays, syringes, or other devices to apply the product, it makes it as easy as can be.
One of the more important claims they make is that you won't experience sensitivity from using their product. This is great because many harsh products out there actually weaken the tooth enamel and can lead to tooth sensitivity. Even treatments you get at the dentist can cause this.
By not using abrasive whitening agents Love That White Smile is intended to gently remove built up surface stains from your teeth with continued use.
The Hype
The hype is still building for Love That White Smile. Now that it is more readily available and word is getting out as to how affordable and effective it is, they should see a continued increase in sales and earnings. Positive feedback is a very powerful thing, and many people that have tried it are saying that it works, and works well.
The Cost
You can now pick this up at Target so you don't have to pay for shipping and handling or order blindly from the website without holding it in your hands first. You can also order from Target.com and you know that you are using a reputable store and your information will be safe and secure.
Teeth whiteners are typically expensive, with some of the Crest products costing $50 or more for a one-off whitening kit. The Love That White Smile system is just $40 and includes not only the whitening foam, but also the maintenance foam that will keep your teeth nice and white once you get them there. It's for a 30-day supply, and you can buy bottles of maintenance foam for $30 which lasts for 90 days.
That's one part of the whitening process that most companies and even dentists overlook. You want to keep your teeth white once you remove the stains and discoloration, and not just have them revert back to their old color. It's good to avoid things like cola and coffee, but over time your teeth will get stained again. By keeping up with their white level you'll make it a relatively easy process and shouldn't have to use another kit any time soon.
The Commitment
You have to really want your teeth white and be committed to using the product as directed. You'll have to be diligent because results come with time. If you only apply it a few times and get discouraged you won't see the full effects. Take a longer view and be patient when you're using it.
Because it is rather easy to use, it shouldn't be that hard to make a habit out of using Love That White Smile. It's the same process and technique you use to brush your teeth, and once you get to the maintenance phase it's just one more step to be added to your getting ready for bed routine.
Evaluation
Most teeth whiteners are effective to some degree. It's mostly a matter of determining which ones are easiest to use, cost the least, and work the best. In regards to ease of use, Love That White Smile boasts that you don't need any messy tubes, creams, or trays. You just use your toothbrush like you would to brush your teeth, but instead of using toothpaste you use their whitening foam instead.
What this does is gives you a lot of control when it comes to which teeth get the most attention, and it also works on all your teeth, and not just the front ones, and all around your teeth, not just on the front side.
Final Love That White Smile Review
From the long and memorable name, to the sharp packaging the folks at Love That White Smile have thought of everything. By taking into consideration all of the times that you'll want your teeth to look their best, they have managed to produce a product that works, and continues to work after the initial treatment.
By putting it at a price point that is within the reach of most people, they are now able to bring white teeth to the masses. This is great because before this white teeth were something that only movie stars and the rich could afford.
Our Recommendation
If you're looking for a complete tooth whitening system that covers all of the bases, you should jump on board the Love That White Smile bandwagon and get their multi-step system. You'll have all of your bases covered, and won't have to worry about your teeth going yellow again, because maintenance is a part of their overall strategy.
What do you think? Does Love That White Smile work or not?