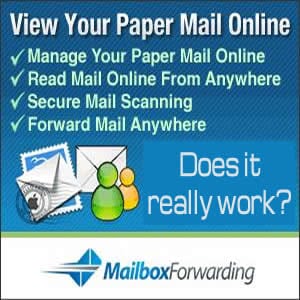 In what could be the ultimate bridge between the past and the future, Mailbox Forwarding says they can let you read your paper mail on your computer. This is definitely a service that would be used by those following the Four Hour Workweek, because it allows you to have a mailing address, but read and keep track of all of your mail from anywhere with an Internet connection. Seems very cool, but does it really work, and what are some examples of how it could benefit you?
Overview
It's been a long time since the Internet hit the tipping point and more people were using email than those who weren't, but the USPS is still around, despite everyone saying it wouldn't last. Sure, they're struggling, and have for years, but paper mail still gets delivered. They've threatened taking away Saturday delivery, but they somehow manage to keep running at a billion dollar deficit, all the while raising the price of a postage stamp to try and increase revenues. Apparently they're not going anywhere any time soon, and Mailbox Forwarding is here to help you deal with your real mail needs.
The Claim
Mailbox Forwarding claims that no matter what you have sent to your virtual mailbox, they can handle it. This includes all of your paper mail, but also includes packages. This allows you to send everything to one address, and then use your account like a command center to determine what to do with it. If something is junk you can have it shredded and recycled. If you want to read something, you can have it opened and scanned so you can read it in your email. If you want it forwarded on to another address, it can be done. You can also receive faxes with their service.
The Cost
It's $14.95 per month to use Mailbox Forwarding, which if you compare this to other mailbox services is a very reasonable price, considering most other services don't include scanning and shredding and recycling as part of their price. You can get your first month free by entering the promo code "freemonth" when you're checking out.
That's if you're happy with a Michigan mailing address. If you want to have a Florida or a California address it will cost you extra. This doesn't seem like a very good business model as far as scaling things goes. They should have it set up so that it doesn't matter which state you're in, you should be able to use it at no extra charge regardless of where you're located. It's clear their headquarters is in Michigan, but that doesn't mean they need to be charging a surcharge because you want an address that isn't in Michigan.
The Commitment
You don't have to be signed on for any long-term contracts, you can cancel your service at any time, and any further mail will be forwarded to you for up to 6 months, at your expense, so you'd want to get the address changed at the time you cancel.
Evaluation
Sometimes it's hard for a business or an individual to avoid paper mail. Between junk mail and important bills and paperwork, it's not like you can just function without a mailing address. More and more files are being sent electronically in PDF format, but until the day comes when everything can be sent that way, it's still necessary to deal with snail mail. If you're always on the go ordinary mail can be quite inconvenient, because it means you have to stay in one place if you want to receive it. With Mailbox Forwarding you can literally go anywhere and not worry about missing an important piece of mail.
One concern that people may have is they don't like the idea of someone opening their mail, and scanning it. This is just something that you'd have to get over if you want to use the service, because until they figure out how to train helper monkeys to open mail and scan it, you're out of luck. You'll just have to trust that the employees there just open and scan, and not open, read, and scan. Unless you're receiving rather sensitive material, or the secret recipe for KFC chicken, you're probably alright.
Final Mailbox Forwarding Review
Mailbox Forwarding is receiving our Thumbs Up review, based on the price as well as the amount of features it includes, and how handy it is. They're still a relatively small start-up, but we suspect that this is a sound business model and they should be expanding into other markets soon, with other addresses available to sign up for. Right now they have three to choose from, Michigan, Florida, and California. It seems the next logical addition would be New York. If you don't care where your mailbox is located, go with Michigan for the most cost-effective option.
Our Recommendation
Try them out for the free month, but be prepared to stay on, especially if you don't mind having your mail sent to a Michigan address. If you've always wanted to blur the line between your real world mail and your email, this is the way to do it. Whether you want to give the appearance of having a real world presence, or whether you just want all of your mail sent to one address and then you can decide what to do with it from there, this is set up to take care of anything you can think of.
What do you think? Does Mailbox Forwarding work or not?