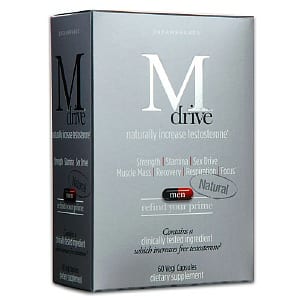 Mdrive says that it can help you naturally increase your testosterone without the use of hormones. This would be preferable to a prescription medication that has a lot of side effects, but there's still a lot of doubt as to how effective these sort of supplements are. We looked at the data available, and evaluated the responses from actual users to find out what the real story is here.
Overview
Testosterone levels are being looked at as the Holy Grail for men's health these days, especially for older men. This is because the theory is that if you boost those levels back to their natural state you'll experience a total turnaround when it comes to things like energy, stamina, and sex drive. Basically everything that guys worry about, and everything that seems to wane with age gets an overhaul.
The Claim
Mdrive claims that if you take their supplement daily you'll be able to experience increased strength, more stamina, and have more vitality. They say that their mix of extracts are more powerful because they're concentrated, and that they help your body maintain healthy levels of testosterone, as well as help with your cardiovascular system. They also claim that it helps strengthen the body by giving it what it needs to function at its best.
The Hype
Testosterone boosters surged in popularity when pharmaceutical companies raised awareness about the "Low T" condition to promote their medications. So far there's a lot of hype to it because there hasn't been any one booster that has been shown to work. Perhaps because they have been rushed to market and don't have any long-term studies men are pretty much relying on social and peer feedback to see if they work, rather than looking at verified studies.
The Cost
A one month supply of Mdrive is $60 and gets you 60 capsules. They have a 60 day guarantee on it so you can take it for a month, stop taking it and see if you feel worse than you did during the month. You get a third one free if you buy two. This should give you enough evidence as to whether or not it's providing results for you. You could even take it a step further and have your levels tested before and after, similar to a before and after picture to get an objective idea instead of relying on the way you feel.
The Commitment
You should take this daily, with one pill being taken in the morning, and another in the afternoon with food. This makes it pretty easy to stick with, although some guys have trouble remembering to take the afternoon dose. It will depend on you how long you want to try this for, but you're covered for 60 days.
Evaluation
After evaluating the ingredients used in Mdrive it was found that none of them have any real scientific backing as to successfully being able to raise testosterone levels. There is some anecdotal evidence in a few unpublished studies, and some experimentation that's been done on rats that might one day prove promising, but at this price point there should be more substance to this, and not just a proprietary ingredient called Cordydrive, derived from the largely unproven cordyceps.
What's interesting is that they have an entire page labeled "Science" that is pretty much devoid of anything resembling it. The studies that they mention are not cited, and much of the page is dedicated to reinforcing the idea that this is specially formulated and extracted, and the rest is dedicated to talking about the creator of the supplement. The one study that they do link to showed results after 8 weeks, so it could be that most men aren't giving this enough time to start to work. It might be best to give it a two month trial rather than one, if you decide to try it.
Final Mdrive Review
Mdrive is getting the Thumbs Down based on a lack of credible positive feedback, little scientific backing to the ingredients, and most people saying that they were on it for an extended period of time and didn't see any noticeable results. They do offer a reliable money back guarantee, so if you want to try it and gauge for yourself whether it works or not there's not much at risk financially speaking. And since shipping is free all that you'll be out is the nominal return shipping costs.
Our Recommendation
While you may have diagnosed yourself with low testosterone, it's best to get it checked by your doctor to make sure before you start treating yourself for it. Many conditions that effect men have similar symptoms to low testosterone, so you should make sure that you don't have something else going on and are misdiagnosing it. If you really want to try this you can get it at a discount from Amazon, but you won't have the same extended 60 day guarantee.
What do you think? Does Mdrive work or not?