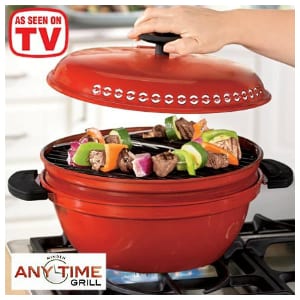 The Minden Anytime Grill takes on the challenge of providing a real grilled taste indoors and without having to break out the big traditional grill. If you've been looking for a way to grill indoors, cook healthier meals for your family, and save on fast food costs and going out to eat, this might be a solution for you. We run the numbers and size this up to see if it's worth it or not.
Overview
Ever since the George Foreman popularized indoor grilling companies have been trying to come up with new and innovative ways to give you that fresh grilled taste without having to resort to actual grilling. We've seen tons of replicas that are able to cook food on both sides, but sometimes that doesn't capture the full grilling taste. In order to truly mimic the flavors you get from the grill you have to replicate the grilling process, keeping things simple with a heat source and a grilling surface.
The Claim
The Minden Anytime Grill claims to be able to work with both electric and gas stoves and ranges. They say that this way of cooking is better for you as well, since it reduces the amount of fat compared to frying your foods or using oil. They say that in just 30 minutes you'll be able to cook your meals because it gets the food hotter than other cooking methods. They also say that you can make desserts with it by grilling up fruit and topping it with ice cream. They say that with the lid on the unit you'll be helping to retain the moisture so foods don't dry out.
The Hype
Grilled food doesn't need much hype, we all just seem to love it. There is something about the way grilling makes food taste that just makes it taste better. Anything that makes the grilling process easier or more economical, or that lets us grill year round is bound to catch the attention of many foodies out there. When you have a product like this that is saying you can bring the benefits of the grill to your stove, there will be a lot of interest in it.
The Cost
The Minden Anytime Grill can be found at online retailers for $60. When you size the cost up to popular in-home grillers like the George Foreman, it's more expensive unless you go with one of the larger family sized models. But the real costs you need to consider are the savings you'll get from not eating out as much, and using this instead to create new meal ideas that your family will love, and that will bring you together more as a family.
The Commitment
Compared to firing up the 'ol grill, waiting for it to heat up, waiting for the food to cook, and then cleaning up the mess afterwards, this should be a lot less work and waiting on your part. This is dishwasher safe, but we recommend washing it by hand to get the most use out of it. This way you will protect the finish on it, as its enameled steel and sometimes this can peel or chip off if you don't take good care of it.
Evaluation
The way the Minden Anytime Grill uses your stove top in order to cook from is pretty ingenious. Sure, there are griddles that use the same concept, but this is like having a mini grill indoors without the need for charcoal or propane tanks. This has been successfully used by happy buyers that say you can do everything from reheating leftovers to cooking entire meals and it heats up fast so there's not a lot of waiting around, and it's healthier than using the microwave.
From real world testing and observation, there's little question that this performs as advertised and can make a quick and healthy meal for you when you're ready. It's shaped so that little heat is able to escape the unit, and it's all channeled to the food being cooked. One thing that users have stated is that this is a good thing to have for an apartment where you're not allowed to have indoor grills like a George Foreman for safety purposes. Since this is basically a unique frying pan you don't have to worry about getting into trouble.
Final Minden Anytime Grill Review
We're giving the Minden Anytime Grill our Thumbs Up review, as it has been well-received by both users and critics alike. This is one of those instances where they have a good concept and then follow through and produce a product that works in real life. Because of its simplicity you don't have to worry about it wearing out or having electrical malfunctions because it uses your range as the heat source. That makes it easy to clean because it doesn't have its own power source.
Our Recommendation
This is a nice way to bring grilled food taste to your family year round. It's like having the taste of summer even when it's too cold or snowy to be able to break out your trusty grill. Because the feedback on this is strong, and there's really nothing out there that uses this exact method, this is a great addition to your home, especially if you're a big fan of kitchen gadgets and are always looking for new ways to bring healthy foods to your family.
Read user reviews on the Minden Anytime Grill
What do you think? Does the Minden Anytime Grill work or not?