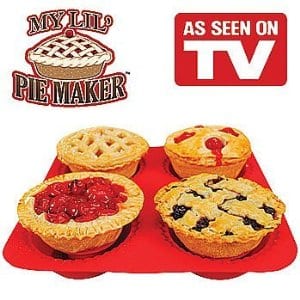 The My Lil Pie Maker is promising to enable you to make mini pies fast and easily. The concept basically takes one of the most beloved desserts in America and shrinks it down to an individual sized serving. This means that instead of settling for a slice of a bigger pie, you get the whole thing to yourself. The possibilities would be as limitless as the amount of recipes there are for regular-sized pies, but how well does this actually produce a quality finished product?
Overview
It's hard to deny that pies are a staple to our way of life. Most people can provide a quick answer to the question of what is their favorite pie, and they are a fixture at all of our major holidays like Christmas and Thanksgiving. The saying "American as apple pie" is pretty right on, and if you stick a scoop of ice cream next to it, few can resist. So it only makes sense that mini pies are becoming more and more popular, and people are wanting to make their own at home.
The Claim
The My Lil Pie Maker claims that it can provide a fast and easy way to make delicious mini pies at home, and that you can churn out four perfect mini pies in as little as 10 minutes. They also say that their magic pie cutting set gives you the right sized base, and also cuts out either a lattice style top, or the regular style one that fully covers it. They go on to state that these pies are the perfect portion, and that you can make quiches, chicken pot pies, fruit pies, and more. They also say it comes with a 10 minute pie recipe book, as well as specially designed spatulas to get them out of the unit.
The Hype
The hype comes from restaurants and diners serving these mini pie creations, which led to people wanting to cut out the middle man and make them at home with their own ingredients, and using their own family recipes. Now there are several mini pie makers all vying to be the one you go with to recreate these little mini dessert wonders.
The Cost
You get two My Lil Pie Maker sets for $27. It's important to note that even if you order a quantity of one on their order page that you are order one of the buy one get one "free" just pay shipping sets, so you will end up with two complete sets and be charge $27, not the $19 you might be thinking.
The Commitment
You probably don't currently make a lot of mini pies right now, so in a way this will increase the time you spend in the kitchen. However, if you've always wanted to make them, there aren't a lot of other ways that you can make them this fast and easy, so it is actually a reduction in the amount of time and effort you'd spend making them from scratch without the proper tools. Emeril Lagasse makes a competing product, which resembles a George Foreman Grill, but the Lil Pie Maker seems to be the better choice, since it's easier to use and doesn't take up much counter space.
Evaluation
The Lil Pie Maker makes a pretty strong case for itself. It uses a silicon mold, which we first had our reservations about, but they're doing remarkable things with silicon these days and it provides a nonstick way to bake cakes and pies like this. It's also got the pie crust cutters included so you don't have to worry about screwing those up. They say it's a foolproof way to make mini pies and we're tending to believe them.
Final My Lil Pie Maker Review
My Lil Pie Maker is getting our Thumbs Up review. They've really thought of everything you'd need in order to make mini pies with the least amount of hassle possible. When you've run out of dessert options it can get boring just going with your old standbys. This lets you dig out all of your old pie recipes and put them to use in a different light. All that you need to do is use your favorite pie crust recipe, and use the same sort of filling that your recipe calls for, or follow one of the included recipes for something new, or a new twist on an old favorite.
Our Recommendation
The same kind of silicon system is used with the Big Top Cupcake system, and that gets good reviews, especially when it comes to its nonstick ability. We're convinced that you should have a good time with this pie maker, and you should find someone that wants to go in on it, unless you want to be able to make 8 pies at one time.
Read user reviews on the My Lil' Pie Maker
What do you think? Does My Lil Pie Maker work or not?