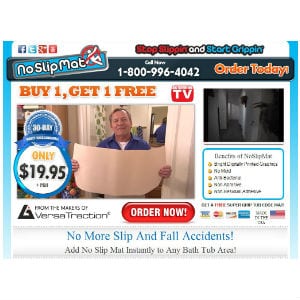 The No Slip Mat is marketed as a way to stop yourself or a loved one from falling in the bathtub. It would be great to finally have a solution to those near accidents in the shower, but is this the right product for the job?
Overview
Slipping and falling can be a very scary and embarrassing thing to do, especially in the shower. The problem is that it's a common place for slips because it's wet and soapy and can be very slick. It's good to find a mat that can help you from falling, but many times these mats don't secure strongly enough to the bottom of the tub to work effectively. Either that or they get so dirty and gross so quickly that you end up having to replace it too soon.
The Claim
The makers of the No Slip Mat say that you won't get any mold or bacteria growing on their mat, and that with their special adhesive it will stay in place and provide you with long-lasting stickiness without having to move or reposition it.
The Hype
The scare tactics abound in this infomercial, citing all of the slip and fall accidents that occur in homes across the country. While it is a pressing problem for many, especially as baby boomers age and become less sure footed in the shower, it's still not OK to try to freak people out in order to sell them a product.
The Cost
It's $36 for two No Slip Mats, which boils down to $20 for the mats and a whopping $16 for basic USPS shipping. This means that their 30 day money back guarantee is rendered useless, as you'd only get your $20 back and not any part of the $16 charged for shipping, plus you'd have to pay to ship them back.
The Commitment
This should be a set and forget item, once you put them in the bathtub area you simply use it as described. The installation instructions require that you clean the bottom of your tub thoroughly, and then dry it off before applying the mat. Many buyers will likely skip either the cleaning or the drying off step, or both and get lousy results because of it.
Evaluation
The No Slip Mat does a good job of making its case because if it can prevent you from slipping and sliding in your bathroom it would help prevent accidents as well as near accidents that can really get your heart racing and cause you to throw out your back trying to catch yourself and stop from falling.
The installation instructions need to be followed exactly so that you get good results with this. Once it is secured in the tub it should stay in place with its adhesive, and they say that once you remove the mat it won't leave a residue behind in your tub the way many adhesives do. The good thing is that once you get it in there it shouldn't move around because the adhesive covers the entire surface area of the mat, something we haven't seen before in shower mats that typically use suction cups and leave much to be desired.
Final No Slip Mat Review
The No Slip Mat would get our Sollid Try rating if they would fix the way they've got the pricing set up. It doesn't make any sense to charge so much for shipping when it definitely won't cost that much to ship. They should also allow you to purchase them singly instead of having to buy them two at a time. We like it when you're able to purchase products straight up with a fair price for both the product and the shipping.
Our Recommendation
You'd think there'd be plenty of options when it comes to non slip bath mats, but there really aren't too many to choose from, and this one might be worth trying out even if it does put the risk on you the consumer. In all likelihood it will work better than much of what's out there, as long as the installation instructions are followed closely. If you find that it is not living up to your expectations you can return it and recover at least some of your initial outlay.
What do you think? Does No Slip Mat work or not?