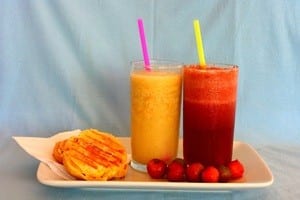 If you're sizing up the Nutribullet vs. Vitamix contest, and are looking to buy one or the other based on who the winner is, read on. We've compared and contrasted these two popular blenders to see which one deserves your counter top space.
The Tale of the Tape
These two kitchen gadgets couldn't be more different in terms of raw power and capacity. The Nutribullet is basically trying to serve one, maybe two people at a time. The Vitamix has enough space to make beverages for 4 people, or cook recipes for the entire family. In terms of power the Nutribullet clocks in at 10,000 RPMs while the Vitamix boasts an impressive 37000 RPMs.
The Vitamix has also been around for several years and is often used in comparison tests with professional-grade blenders costing several times more. The Nutribullet is a relative newcomer to the market and is largely known through its infomercials.
Nutribullet Weigh In
The Nutribullet is claimed to be able to turn the cells of your foods inside out so that you're getting more nutrients than you would if you used a juicer or ate them whole. It's not really meant to make smoothies or to be used as a food processor. It's main function is to blend up fruits and veggies and liquify them for easy consumption.
Vitamix Weigh In
The Vitamix is well-known as the blender of choice for many chefs, and you can see it being used in commercial settings at some juice bars and coffee shops. It's spins and blends so fast that you're supposed to be able to make soup with it, as it blends up the vegetables it heats them up as well so you simply add a few additional ingredients and you can pour the hot soup right out of the blender.
Cost Comparison
The Vitamix is notoriously pricey, with many of its models clocking in at over $500 and the Nutribullet is priced at a nifty $120 and even has a 6 month payment plan to make it painless. In this regard, Nutribullet is the obvious winner, but let's do a further comparison to see if the price is a knockout punch or if Vitamix can make its sale.
Where They're Similar
They both claim to be able to pulverize fruits and vegetables, to the point that there isn't any pulp left. If you don't like the idea of a juicer that separates the pulp from the juice and yields a very small amount of juice compared to all of the fruits and vegetables you're putting in the top, both of these blenders can help. They are meant to blend up the pulp so fine that you don't even notice it as you drink the juice, but still get all of its benefits, like added fiber.
Where They're Different
The Nutribullet isn't trying to be all things to all people. It has a very specific set of abilities and it simply says it can do these few things very well. The Vitamix wants to be the focal point of your kitchen, and wants most recipes to pass through it by offering several different features. The Vitamix boasts a long track record of success, has few reports of it breaking down in its prime, and it's easy to order replacement parts in the event that something does break.
In this regard, the Vitamix tries to sell you on the idea of doing lots of tasks in the kitchen, which is easy to get roped into, but the reality is that if you aren't currently in the habit of doing something in the kitchen, a particular gadget won't be able to start the habit. The best products out there are the ones that take a task you already do on a regular basis and make it easier or more efficient for you.
Final Nutribullet vs. Vitamix Matchup
At first glance, it appears that the Vitamix is the hands-down winner. And in many respects it does outperform the Nutribullet. If you have a $600 budget for your blender, then by all means grab the Vitamix. You'll be happy and you'll be able to forget about blender shopping for several years to come.
If you need to be a little more conservative with your blender buying, and you'd feel the pinch of spending $300-$400 for a refurbished Vitamix, then the Nutribullet will likely meet many of your expectations, while fitting nicely into most budgets. We're definitely fans of buying one high-quality product and keeping it for several years, rather than buying a cheaper and poorly made product again and again. In this instance the Nutribullet may not last as long as a Vitamix, all else being equal, but it should last you a good amount of time and provide good results in the meantime.
And the Winner Is…
We're going with the Nutribullet for its value for the dollar. At $120 for a blender that lives up to much of its claims, you'd have to buy 4-5 of them to equal one Vitamix, and that means that it's hard for the Vitamix to be able to compete in this realm. You might be able to do more with a Vitamix, especially if you buy a model with several attachments that enable you to grind grains and knead dough, but if you're just looking for a straight up blender or juicer, the Nutribullet is a better choice.
What do you think? Which Works Better: the Nutribullet or the Vitamix?