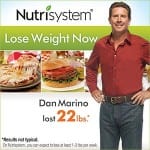 If you've noticed a celebrity on TV proclaiming how effective Nutrisystem is, you've no doubt wondered if it could work for you. It sounds as if it could be the winner, since it takes out all of the guesswork as to what you should be eating, and also makes it so you don't have to buy all of the ingredients and prepare all of the foods.
Overview
One complaint that many dieters-to-be have is that they don't have the time or the knowledge of what to cook for themselves in order to lose weight. What a diet food delivery service does is fill that gap by providing high quality health foods to your door that you just have to heat up and eat.
The Claim
Nutrisystem claims that if you eat their food you'll lose weight. The way they go about it is by providing foods that are low on the Glycemic Index, have smaller portion sizes, and they encourage you to eat frequently throughout the day.
The Hype
Nutrisystem is well hyped because of all the celebrity endorsements they've managed to line up, as well as the extensive amount of advertising they do. It is probably the best recognized, and most used diet delivery program on the market today.
It's worth mentioning that they display quite clearly that the results these celebrities are talking about are not typical. Makes you wonder why not, and what did they do to get the results.
The Cost
Many of their promos state that you can get a free week of food if you sign up for the program. Obviously the cost of that week's worth of food is absorbed by the other four weeks that you have to pay for, but it's a good gimmick to get people to sign up and think that they are getting a deal.
Right now they have 3 main price tiers. You can get their gourmet program for $290 and their basic program for $263.
If you just want to try it for a month you'll have to pay more. Their month-by-month program is $386, over $120 more than the auto-ship price. Obviously they want to make their money by repeat purchases, but this seems like a rather excessive surcharge just to avoid getting automatic shipments.
The Commitment
Ordering the food and having it delivered to your door is the first part, but if you don't end up eating it, or if you eat additional food outside of what they send you, you might have mixed results or none at all. You'll have to stick to the portion sizes and eat according to their meal plan. You should also incorporate an exercise program if you want to get the best results.
Evaluation
Following the Nutrisystem program is just as difficult as following any other diet program. The temptation to eat off of the system will be great. You'll have to have the same amount of willpower to eat just the food they send you and not supplement it with junk food, or additional portions.
Since they recommend that you combine their food with store-bought food, they are opening the door for user error as well as cheating. It is not a self-contained system where you won't have to go to the grocery store. Many people think that by signing up for Nutrisystem you'll be able to feed off of their food exclusively and be off the grid as far as restaurants, fast food places, and grocery shopping.
Nutrisystem is still subscribing to the idea that you should eat many smaller meals throughout the day. This is often used in the weight loss and fitness industries as a way to boost your metabolism. The theory is that if you a"graze" throughout the day that you won't get cravings for foods and won't stuff yourself at a big meal.
In reality, your digestive system needs time to break down the food that you eat. If you are constantly bombarding it with new meals then it stops digesting your previous meal and gets started on the new one.
Additionally, you'll need to reheat the foods that they send you. The food has been prepared previously, and then frozen. If you put these frozen foods into the microwave and nuke them you are further sapping any sort of nutrients or beneficial qualities from them. What's left by the time it hits your plate is a meal that may have been healthy at the time it was prepared, but after being frozen and zapped it's now just fodder, devoid of any food-like substances.
Final Nutrisystem Review
The concept behind Nutrisystem sounds valid, but once you look into what it really consists of you'll see that it's not a sustainable system or healthy for you.
The main problems are that you can't continue on indefinitely with the program, so why set yourself up for disaster at some unknown future date? Also, you are required to buy your own snacks from the store according to their recommendations. This adds massive amounts of temptation as you walk through a grocery store full of items that will throw you off course in a hurry.
And lastly you won't be getting any health benefits when all three of your meals are frozen and then microwaved. You'll basically be giving your digestive system lumps of what looks like food, but is actually just filler.
Losing weight is not rocket science, as Nutrisystem would have you believe. You don't need them to cook your meals weeks or months prior. Just start adding healthy, fesh foods to your regular diet and ween yourself off of heavy foods that you'll find at restaurants. This way your body is getting what it really wants and needs, and you aren't relying on a corporation to provide 100% of your food.
Our Recommendation
If you have trouble coming up with new menu items, or don't know what a balanced meal is supposed to look like, then signing up for Nutrisiystem for a month is a good idea. This way you can see the sort of meals you can make, the portion sizes, and the different food combinations that work for you.
What do you think? Does Nutrisystem work ot not?