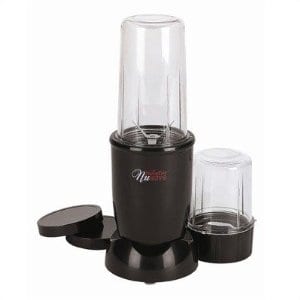 If you're familiar with the Magic Bullet then you'll recognize the NuWave Twister. It looks like they basically said "us too" and tried to get in on the mini-blender movement. So is there any reason why you should go with this one? Do they have some Purple Cow feature that makes you say "I think I'll get this one instead."? We got down to brass tacks to see if this is the case or not.
Overview
Mini blenders are fun to use because they can do a lot of what a full size blender can do, but they are easier to use and easier to clean up. Some of the good ones are pretty powerful too, so you can use them to blend up iced beverages, puree baby food, or make a homemade soup for one person. If you find that you don't use your full size blender as much as you thought you would, you're probably needing a smaller sized unit to fill in on all the smaller sized jobs that don't justify breaking out the Big Dog.
The Claim
The NuWave Twister says that it will be able to help you with all of your food prep needs, and that it will save you time from chopping and dicing things with a knife. They say that it doesn't make a mess, and won't give you a hassle as you chop, grate, blend, and mix practically any food, with just one blender.
They also say that you can use it to make all sorts of things as well, from dips and baby food to smoothies and soups. It's all self-contained so you don't have to dirty up a bunch of dishes in the process. You can mix and serve all from the same container. It's something that they say you could use every day because it has so many uses. They also say it stores easily compared to a full size blender.
The Hype
The hype is that this is basically a re-branded early version of the Magic Bullet. Apparently they are trying to ride its coattails and hope people get confused into buying it instead.
The Cost
The NuWave Twister comes to $48 including shipping. If you find a buddy to go in on the 2 for 1 offer from Magic Bullet you can get it for the same price and get 3 times as many pieces and a better-reviewed blender. We're just sayin'.
The Commitment
This should save you time in the kitchen compared to cutting up veggies by hand. If you compare it to using an ordinary sized blender, it could save you time as well, or take longer if you've got a big job to do. These mini blenders aren't really suited for big jobs, but more to handle smaller jobs for one person or for a few people.
Evaluation
NuWave Twister has a lot to live up to. If you're going to come onto the scene obviously attempting to replicate a proven winner in the market, you have to bring something to the table that the other guy aint got. However, they don't actually have anything that separates them from a Magic Bullet, so they really don't give you any reason to buy the Nuwave over the Bullet.
In order to use this you just twist the top on, flip it upside down and put it on the base. By pressing down you activate the blender and away it goes. It functions just like the Magic Bullet. You get a complete system with this, including the blending unit, a large cup, a small cup, lids for both, and 2 different blades to use depending on what you want to do. With the Magic Bullet you end up getting more cups lids and accessories.
Final NuWave Twister Review
The NuWave Twister is a late entry into the mini blender arena and it gets knocked out in the first round. Perhaps if it were wildly cheaper than a Magic Bullet it might be able to carve out some market share, but it isn't. They say imitation is the highest form of flattery so in this instance they are giving mad props to the folks at Magic Bullet headquarters. The reason the Bullet has the edge is that it's been doing its thing for years and years now and they've revised it a few times to make it better and better.
Our Recommendation
Get a Magic Bullet. It's a more developed, more seasoned product that has been a top seller for years. The reviews show that people really like it, and for a mini blender you can't go wrong with it. We've used it to make all sorts of things, but our favorite recipe is salsa. It blends a tomato up really nice, as well as the onions and peppers and garlic and in no time you have fresh, homemade salsa to go with your tortilla chips. Enjoy!
What do you think? Does NuWave Twister work or not?