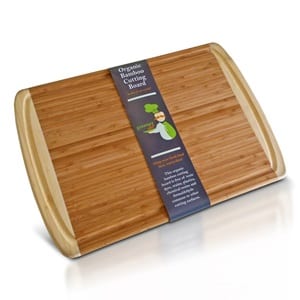 One of the most needed items in the kitchen is the cutting board, but it can also be one that can be dangerous for gathering harmful bacteria. Is the Organic Bamboo Cutting Board a better choice?
Overview
The Organic Bamboo Cutting Board is made from 100% organic moso bamboo and is comprised of top quality workmanship. It has no BPAs and is toxin free. This board has a nice groove built into it for catching the run off created by foods that are cut on it. It is also being promoted as being great for serving the turkey on or as a platter.
The Claim
The promoters claim that this is a organic cutting board and not only is it good for personal use, but would also make a great gift, which no doubt it would. They are saying that the coloring is natural so no dyes have been used for this. They are promoting it as a great alternative to using your counter tops for food preparation which can cause damage to it.
The Hype
Bacteria is always a big concern when it comes to cutting boards and the promoters of the Organic Bamboo Cutting Board are focusing on the fact that their product is antimicrobial and antibacterial resistant.
The Cost
You can expect to pay $24.95 for this item if you purchase it at Amazon.
The Commitment
You will want to keep the Organic Bamboo Cutting Board out within easy reach so everyone in the kitchen remembers to use it. You may want to decide to use this for everything but your meats. Many are saying they use other types of cutting boards for meat products, because of the cleaning issues presumably. There are proper methods for preparing and cleaning bamboo cutting boards so if you don't receive these with your order then make sure you research the proper procedures.
Evaluation
Bamboo cutting boards are becoming really popular and this led us into looking at them a little closer. One of the big complaints besides bacteria problems with other cutting boards is the damage they can cause to your knives. This is something that is not supposed to happen with this Organic Bamboo Cutting Board. There is a lot of good feed back regarding this one, and many like the durability of it as well as the size. There has been the odd complaint that the finish on it is not perfect.
Final Organic Bamboo Cutting Board Review
We are going to give the Organic Bamboo Cutting Board a Thumbs Up rating. There is a lot of good feedback on it and we love the fact that it is organic which means it doesn't possess any toxic qualities. We also are well aware of how popular they are becoming and wanted to make sure you had a good choice for one when you decide to buy.
Our Recommendation
Even if you have one of the many kitchen gadgets in your home that is used for food chopping, slicing, and dicing or have added a nifty product like the chef's thumb in your collection, you will probably still want a good reliable cutting board like this Organic Bamboo Cutting Board to rely on.
What do you think? Does the Organic Bamboo Cutting Board work or not?