Overview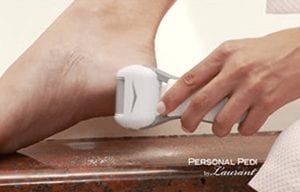 Now is the time to really focus on your foot care if you want them to look beautiful when you are wearing your summer footwear. Depending on how bad of a condition they are in, it can take several weeks to get them looking attractive. There are some great tools that you can use to help with this, so we thought we would tell you what we thought about these, and in particular the Personal Pedi by Laurant.
The Claim
The Company claims that the Personal Pedi by Laurant is wonderful for removing the calluses that form on feet, and works equally well on both men and women. They say that it can be used wet or dry. It works off a combination of two rollers. One is a mineral roller to remove the rough build up, then the second roller is a buffing roller to help smooth out the skin.
The Hype
Quick, easy and effective are all the buzz words that their hype focuses around, and what people find appealing when it comes to caring for their feet. It also can be used on callused hands which is a bit of a bonus.
The Cost
When placing your order it might get a little confusing. You will have the option of paying $19.95 plus $7.95 for the Personal Pedi with (1) Remover Roller and (1) Smooth and Polish Roller, or you can pay $29.95 Personal Pedi with duel speed which includes (1) Remover Roller and (1) Smooth and Polish Roller plus $7.95 for shipping and handling.
The Commitment
No pedi file is a miracle worker. You have to be consistent with your foot care regime. Removing the calluses once doesn't mean they won't return. In addition to using the Personal Pedi by Laurant you are going to have to incorporate other forms of foot care depending on the condition of your feet.
Evaluation
There are a lot of files on the market that are being touted as the best for callus and hard skin removal. Some are manual files while others are electronic like this particular one. In the past we talked about Pedi Spin, which is getting more thumbs down than up. When we looked into this Personal Pedi by Laurant a little closer we discovered that it is a best seller on Amazon, and it has created about a 3.5 star rating from 90 customer reviews.
Final Personal Pedi by Laurant Review
We are going to give this product a try/buy rating. We have some concerns about the options of being able to buy a stepped up model that has a duel speed. Some people may just buy the standard one, and it may not be powerful enough for what they need. This seems to be one of the general complaints that some reviewers are posting.
Our Recommendation
One of the best treatments for calluses is prevention. These are normally caused from pressure or friction. It could be that you are not wearing the proper fitting footwear. It could also be that your posture is causing you to put undo pressure on your feet which in turn calluses are building up as a form of protection. You can start by removing the calluses with the Personal Pedi, and then looking at what needs to be implemented to prevent them from coming back. It would seem that Personal Pedi will be beneficial in dealing with overall dry and rough skin which will keep it from building up and making the feet look unattractive.
What do you think? Does the Personal Pedi by Laurant work or not?