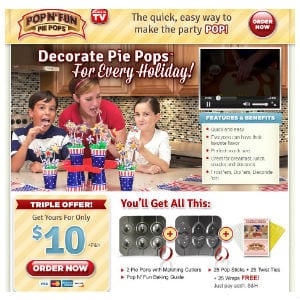 Pop N Fun presents a way to make cake pops without the need to use a specific gadget for the job. That's because you're using your own oven, and this simply provides the pans and sticks. But how well do they come out?
Overview
Cake pops are really popular these days, and you can end up spending a ton on them if you want them already made. There are also standalone units that can make cake pops six or eight at a time. But those require taking space on your countertop while in use, and extra storage space when not in use. The big draw to these pans is that they let you use your oven, and take up only a little space next to your cookie and baking sheets.
The Claim
They have it set up so that Pop N Fun comes in two different shapes, a round and a heart shape. This alone is big because most cake pop makers just come in round, so you can really make something unique with these just by using the heart shaped pan. They say that it's easy to use the Pop n Fun kit, and that they have it so you get cutters that cut the pie crust so it first with the heart or round shaped pan.
The Hype
These are actually pie pops, and not cake pops. They show you how to cut out the pie crusts, and also give you ideas on what to fill them with. So while they make resemble cake pops, they are not the same old same old, and that will definitely get people talking, since they probably have never had a pie pop.
The Cost
Pop N Fun comes to a total of $26 and gets you both the round and the heart pans, and 25 sticks, wraps, and ties. This isn't a bad deal, since you can easily get new sticks, ties, and wraps, and you'll have the pans ready whenever you want to make these. It's nice that they get you started with enough to entertain or send them off to school on your kid's birthday as treats for the class.
The Commitment
This should be just about the same level of commitment as baking cake pops, but with the added guidance of their recipe book. They have found some shortcuts to making the crust and getting ideas for the filling so you can make them even faster. You'll have to keep an eye on them while they're in the oven and make sure not to overdo them. This may require a little more babysitting than some of the cake pop makers out there that have an automatic shut off.
Evaluation
They say Pop N Fun pie pops come out to be the perfect snack size, and can be eaten at any meal of the day, including breakfast. While you may not want to start your day with pie, the point they are trying to make is that these are a good portion size for a dessert, so you can enjoy them when you'd like, and you won't have to feel guilty about eating a big piece of pie or cake. For us, the real attractor factor of this product is that it's pie, not cake, so it's going to deliver a different taste and texture sensation and be something new that your family and friends will likely not have seen.
For ads showing how a product works they bring in a professional staff of photographers and food artists to make things look incredible. You can tell the pops here were made by pros, but that shouldn't deter you from practicing until yours look that way too.
Final Pop N Fun Review
Pop N Fun is getting our Solid Try rating, as it has everything included that you'd need to get up and running and on your way towards making your very own pie pops. The way they have this set up seems like it is an easy way to make a pie pop, and they give you the instruction necessary to make it through. Keep in mind that yours might not turn out just like they're pictured, but you'll have to practice a bit until they come out just right.
Our Recommendation
This is an easy addition to most any kitchen, as it won't take up very much room at all, requires no counter space, and is easily cleaned and put away until the next time you want to use it. If your family prefers pies to cakes it would be a better choice than getting a cake pop maker, and if you've already debuted cake pops to your friends this is a way to show them something they havne't seen and secure your crown as a cutting edge baker extraordinaire.
What do you think? Does Pop N Fun work or not?