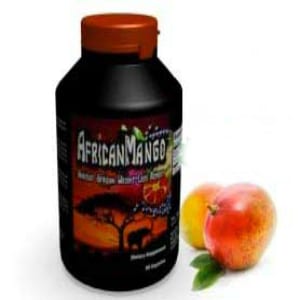 Pure African Mango is jumping aboard the train of hype surrounding African mango and its apparent effectiveness at assisting in weight loss. They say that their product uses natural ingredients, and that you simply have to take their pills before meals in order to see results. But is this really pure African mango that you're getting, and does it deliver on its claims.
Overview
African mango is actually from Africa, and is the fruit of an indigenous plant there. The way these companies are going about this is to extract the parts of the plant that produce the results, and put it into pill form so that you don't have to eat copious amounts of mangoes each day. By concentrating these extracts you end up getting a bigger bang for your buck, and are able to see results more quickly than with other delivery methods like liquids.
The Claim
Pure African Mango says that you can lose weight of course, but it also says that you can lower your cholesterol levels, and decrease your waist and hip size. They are basically listing the effects of African mango as a fruit and plant, and referencing studies that were done some time ago, not necessarily making claims as to what their pills have done specifically.
The Hype
African mango in general has been getting a fair amount of press lately, both in the news and on medical-based shows like Dr. Oz. This can create quite a stir because people rely on these shows to give them condensed medical advice, and they will usually act on what they hear.
The Cost
One bottle of Pure African Mango is $37, and like with most diet pills the savings occur with the more you purchase at one time. You can get four bottles for $110, which equates to $27.50 a bottle. This is the best deal they have.
The Commitment
With something like this you only have to be committed to taking the pills every day. But aside from that you will probably want to get more active and watch what you eat. This will create a synergistic environment where the natural ingredients in the pills work in conjunction with the exercise you do, and the fruits and vegetables you eat.
Evaluation
Pure African Mango is nice because it only includes African mango so you're not getting any other additions to it. And since African mango is not a stimulant, you don't have to worry about an increased heart rate or heart palpitations, or jitters and nerves. That's why many people really like using it because it gives you an energy boost, but it feels natural. Also, the weight seems to come off from all of the right places, so you can see good results more quickly that you can with other diet pills.
If You've Been Burned Before
If you've tried other diet pills in the past and it didn't work out for you, or worse you had an adverse reaction to them, you might be holding that grudge against African mango weight loss pills. But chances are that if you haven't tried African mango specifically, you owe it to yourself to clean the slate and give it a fair and balanced try. This is especially true if you went with something harsh like ephedra or something similar.
Final Pure African Mango Review
We're giving Pure African Mango the Try rating, and it should make it on to your short list of African Mango products to try. The good thing about diet pills is that they're consumables, so eventually you'll run out. This means that you can try out new ones once you finish a bottle, or stick to the one that is working. Many people put so much pressure on themselves to choose something that will work, that they miss the chance to make this a fun sort of experiment, and remove their emotions from the equation.
Of course, no one wants to pay money for something that doesn't work, but when it comes to something as hit or miss as diet pills there usually will be some trial and error involved.
Our Recommendation
You can go with Pure African Mango, but you should also consider African Mango Plus. They both have similar ingredients and similar feedback, so you can't go wrong either way.
What do you think? Does Pure African Mango work or not?