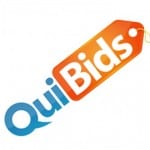 Penny auction sites like Quibids have been quite popular in the recent years. These businesses have proven to be successful and buyers also like the idea that they can get high-value items at very low prices. Quibids is a website that exclusively focuses on selling products through the process of bidding. It is actually one of the largest bidding websites that operates in the USA.
Overview
Just like other penny auction sites, you only need a penny to engage in the bidding process at Quibids. The way it works is you can only bid a single penny at any time during the bidding process on a particular item. However, in order to be able to bid, you need to pay 60 cents for each 1 cent bid. You need to purchase the 1 cent bids beforehand in order to participate in the actual bidding procedure.
The Claim
The site promises that it will sell items that are of high value at rather unbelievable prices. It boasts of selling a brand new iPad that's worth around $500 for only around $20 in one of its bidding auctions. Other items of similar caliber are being sold all the time and the selling prices are always incredibly low too.
The Hype
The advertisements and campaigns rolled out by the Quibids company were met with anticipation and excitement. Buyers would like to get their hands on $20 iPads of course. Surely, the deal seems to be too good to be true. But with all the possible savings that you can get by simply making 1 cent bids, the concept is indeed very appealing.
The Cost
You can purchase 1 cent bids for 60 cents each. Note that typical bidding sites don't charge anything for you to make a bid. Therefore, if you lose the auction, you will lose some money too. While the person who got the item may seem to have won it, the total cost may not be as low as advertised.
In the case of the $20 iPad, note that the buyer paid 60 cents for every cent that he or she has bid on the item. Although the total expense may be less than $500, the $20 reported is quite misleading. Also, do the math and you will find that Quibids has sold the $500 iPad for more than its actual worth – more than double.
The Commitment
There is no formula to have a winning streak at the Quibids auction site. You are bidding almost blindly as you never know when the actual bidding will stop. The Quibids people control everything and the bidding process can suddenly stop without any warning. So if your strategy is to always bid at the last minute, you may find that the bidding has already closed without warning.
Evaluation
Quibids is a terrible penny auction site. It lures buyers into thinking that they can save money but the actual savings aren't really that much. Aside from having to spend 60 cents for every 1 cent bid that you place on a particular item, you will also be charged with shipping and handling. The only real winner in this situation is the Quibids site itself.
It has no way of losing money as it can extend the deadline for the bidding procedure as long as they want. There are even reported cases of auctions that reach up to 6 hours.
It's just terrible that you need to pay for the opportunity to bid on a certain item. You will surely feel bad if you lose the auction and lose some money as well. Unlike reputable auction sites like eBay.com, you don't deal with any third party figure in the Quibids structure. Quibids is the seller and Quibids is the auctioneer as well. There is no buyer protection in this program.
Does Quibids Really Work?
Quibids work for Quibids as the website is raking in huge profits from this set-up. However, Quibids does NOT work for the buyers. There's just too much competition and the prices will tend to go up during the actual auction. Moreover, these products have no warranty. So if you end up with a defective item, you will not be given any replacements or refunds.
Our Recommendation
We strongly urge you to stay away from the Quibids site. You will be better off placing your bids at legitimate auction sites like eBay. You can even buy brand new items from sites like Amazon.com where all your purchases are covered by warranty.
What Do You Think? Does Quibids Really Work?