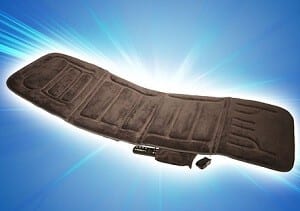 There are times that we really just want to relax and unwind and usually this is the time that we go seeking the most comfortable chair in the house and quiet location to be able to do so. More often than not the two don't come together. Meaning finding the right chair that is in the right spot. The solution to this might be the Recline and Unwind.
Overview
The Recline and Unwind is a chair pad that fits almost any standard type recliner. What is unique about is that not only is it really comfy but it provides a massage too.
The Claim
Recline and Unwind is a massaging pad that the company claims that you can take it wherever you want and use it. They say it has 5 spa settings and an extra bonus is that it provides heat too.
The Hype
Usually people pay a fortune for a massage chair that is big and cumbersome and ends up having to be situated in one room of the house. This isn't always convenient. So the hype of an on the go lounge pad that you can take and use anywhere is really significant.
The Cost
With all the great benefits that a massage has to offer one would think that an item like this Recline and Unwind would cost a pretty penny. Actually, it is really reasonably priced at $39.99 and $9.99 for handling and shipping. As an extra bonus if you are willing to pay an extra $19.99 you will get a second one free. This is probably a great bargain if you are looking for a his and hers.
The Commitment
Probably the biggest commitment you are going to have to make is to limit your time on the Recline and Unwind because the comfort it can bring you will be hard to give up when its time to get busy again.
Evaluation
This really is a great idea, but you need to set your expectations properly. It is portable don't forget, so you are not going to get that plush padding that you get in one of those big massage chairs.
Final Recline and Unwind Review
We are going to give the Recline and Unwind a thumbs up rating. It's about time that we get to enjoy the benefits of massage without it costing a fortune. We like the fact that it comes with a remote and charger and has five different options on it. The fact that it is so portable and be used almost anywhere is a great concept.
Our Recommendation
Chances are this is going to become such a popular item around your home that you are either going to have to hide it or have at least one more on hand for other family members to use. While this Recline and Unwind is pretty well going to provide a great massage for the major portion of your body, it won't do anything for your feet, but don't worry we've got that covered too. Check out the Electrofoot for that body part.
What do you think? Does Recline and Unwind work or not?
[kkstarratings_custom_footer]