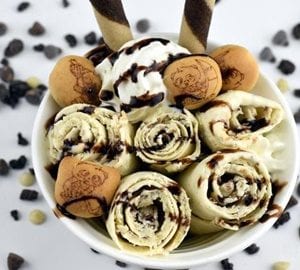 There are very few people that don't love ice cream. Although there are tons of people who try to avoid it. Then there are those that love to make homemade icecream. But there are others who figure its just to much of a hassle. They may change their minds after checking out Rolled Desserts.
Overview
Rolled Desserts is all about ice cream, but not in its conventional manner. The big focus here is on rolled ice cream. Yep! All it takes is the Ice Plate to accomplish this.
The Claim
The promoters of rolled desserts says its really easy to use the Ice Plate. It is just a matter of spreading the ice cream out on the plate. Then sticking it in the freezer for twelve hours.
The Hype
The hype around the rolled desserts is the large number of variations of rolled ice cream desserts that can be made. It is all about really dressing up ice cream and serving it in some really unique and innovative ways.
The Cost
The cost for rolled desserts which is really the ice cream plate. Which is going to cost $49.99.
The Commitment
There is a catch to rolled desserts. The ice cream plate is being offered through Indiegogo. So you will need to show that you have an interest in it. You really need to be one that is into something different to have an interest in the rolled desserts. But there are some good factors to it. For those that enjoy ice cream but want to keep it to a minimum then this just may be the way to do it. It might be great for the kids too. The slab of ice cream could be loaded with fresh fruits then rolled up. The kids are getting the fruit you want them to eat. But the kids are getting a small portion of their favourite dessert.
Evaluation
The rolled desserts seems like a great idea. It certainly is innovative and another way to make and serve ice cream. If you want to cheat you could use store bought ice cream. Then just spread it over the ice plate and refreeze it so you are able to roll it.
Final Rolled Desserts Review
We are going to give the rolled desserts a try/buy. Really with some creativity anyone can come up with some similar ideas. However, the ice plate is going to be the perfect tool for getting properly rolled ice cream. There are some places that are beginning to serve this as a dessert and apparently it is a big hit. So there is definitely some merit to it.
Our Recommendation
If you are really into some innovative dessert makers then check out the Babycakes Cupcake Maker. It would make a perfect partner to go with the Rolled Desserts.
What do you think? Does Rolled Desserts work or not?