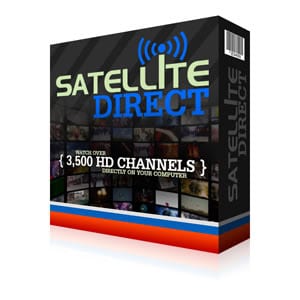 If you are skeptical that you can really get 3,500 channels without having to pay a monthly subscription fee you're probably looking for a Satellite Direct review to answer a few questions for you. The first is whether or not it is actually able to access that many channels for free. The next question is whether these channels will have any programming on them that you even want to watch. We will look further into what this entails and whether or not you can get shows to really play.
Overview
It can be frustrating having to pay so much money every month for a limited number of cable or satellite channels. We'd all love to have access to every single sports program, TV show, and movie channel on the planet, with a relatively small one-time fee, but most of us realize that this isn't going to happen. On an ethical level, the cable and satellite companies have invested millions of dollars in infrastructure behind bringing you all of these shows, so they kind of deserve a return on that investment.
The Claim
Satellite Direct claims that you can watch over 3,500 channels on your computer with no bandwidth limitations, and no monthly charges. They claim that you can get channels from all over the globe streamed right into your PC. They claim that you can watch sports programs, movies, news channels, and more, all without paying for cable or satellite TV. If you have the proper cables you can even put these shows right onto your TV.
The Hype
Ever since people have been trying to steal cable, the idea of getting hundreds of channels without having to pay for them has been a staple in the mainstream mind of American society. Who wouldn't want to be able to watch whatever they want, whenever they want, without having to pay for it? The funny thing is that you might have 3,500 channels at your disposal, but there's still "nothing on".
The Cost
Satellite Direct as a one-time payment of $50, and is processed through ClickBank so if you had any concerns about this being a scam or not, you don't have to worry because you are protected by an iron-clad 60 day money back guarantee. This means that if you try this out and aren't satisfied with what you received, you can request a refund, get your money back, and it is like it didn't happen.
The Commitment
Once you make the purchase you'll need to follow the instructions on how to install it on your computer and get connected to the network that will deliver the channels to you. It is all included in the package, and should be laid out in a step-by-step manner so that you don't have any trouble. Of course they do provide support if you run into any problems, and can help you troubleshoot from there, but it should be pretty straightforward and once you click on the install button it should do the rest for you.
Evaluation
The feedback on Satellite Direct is that the number of channels you receive is nowhere near 3,500, and most of them are free channels that you can access online through other websites. What this is doing is organizing everything for you so that you have an easier time of finding those channels, and getting them to play on your computer without visiting hundreds of other sites. Whether or not this is helpful enough to you to justify the $50 payment is going to be your choice to make. Some people might be disgruntled because they aren't able to watch premium channels, or they had their heart set on a specific channel and it's not included.
Most likely you realized that you wouldn't be able to access premium channels like HBO, Showtime, or Cinemax, or even basic cable like TBS or the Comedy Channel. You definitely wouldn't be able to replace cable or satellite TV with this. Your best bet would be to spring $8 a month for Netflix and get it on your TV with a Wii, PS3, or Xbox. This allows you to watch full seasons of many popular TV shows, tons of movies, and you can watch an unlimited amount all streamed almost instantly to your TV or computer.
Final Satellite Direct Review
Satellite Direct overstates just how many channels you'll be able to access, and although they don't specifically state that you'll get high quality channels that you'd actually want to watch, the consensus is that most people would be pretty bored with what's on offer here. It's not as if you're getting all the channels you'd get with a premium satellite service, or by getting the most deluxe cable package available. You are just getting a lot of international channels, and free online channels, all in one place.
Our Recommendation
If you living abroad and are missing your international channels from your home country, or are trying to learn a second language and you think it would be helpful to watch programming in another language, this would be a decent service to check out because many of the channels you'll find are from other countries. Also, there are enough channels to keep you busy with different programs of varying interests. For a one-time payment of $50, it's worth checking out to see if there's anything that will hold your interest enough to justify staying on with it.
What do you think? Does Satellite Direct work or not?