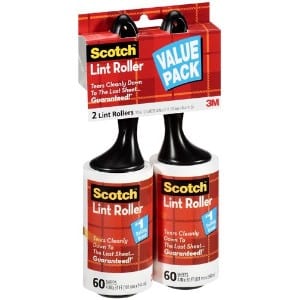 The Scotch-Brite lint roller is the quintessential traditional lint roller. It involves disposable sticky sheets that need to be peeled off when they lose their stick. Eventually you'll run out of sheets and have to either buy a replacement roll, or a new roller. So how well do these actually work at getting lint, hair, and fuzzies off your clothes and furniture?
Overview
These are the standard lint rollers you see in the store, and are the reason why so many competing products like the Schticky and Sticky Buddy have popped up to try and overthrow it. Old fashioned lint rollers like these have been notorious for not being sticky enough, being disposable, and being hard to peel the used up sheet off.
The Claim
The Scotch-Brite lint roller doesn't make any big claims as to what it can do. They know that you know what it is supposed to do. They do say that it works well at grabbing onto pet hair, which is important for those that have an overabundance of the stuff. In fact, we're going out on a limb to say that the majority of people that shop for and compare lint rollers are waging their own personal battle with a shedding pet.
The Hype
The reason this product gets purchased is because it's readily available in stores, not so much because it is incredibly sticky, or because it works altogether well. Scotch is a familiar name in the tape industry, so much so that Scotch tape has become a way to refer to invisible tape the same way we has for a Band-Aid instead of an adhesive bandage.
The Cost
A Scotch-Brite lint roller doesn't cost much, and that's because it's disposable. It can be had for about $3 a roller at Amazon.
The Commitment
The real commitment here is that if you buy this you'll end up having to buy it or something like it again. It's designed to be used up and tossed, or at least refilled. New lint rollers are coming out that attack this very level of commitment by saying that you can rinse them off, dry them off, and use them again.
Evaluation
The Scotch-Brite lint roller works like you'd expect it to, good but not amazingly great. It gets the job done in most cases, but some people complain that it isn't sticky enough. This is often a common complaint from lint rollers as there's only so much adhesive that you can fit onto a thin strip of paper. It can often take several passes over the same piece of lint or a stubborn fuzzy before it finally gives. But most say that it's sticky enough to get the job done.
Others say that the perforation on the sheets leaves something to be desired, and it makes it hard to take the old one off and reveal the new sheet. This is a common complain with almost all disposable lint rollers, and is something that can be avoided by getting a wash and reuse model.
Brand Recognition
We've already noted that Scotch is a name that's already got a built-in reputation for making sticky products like tape. But you have to consider whether that trickles over to a product like a lint roller, or if that was just the next logical step for them to take to increase their product line. In this instance it appears that they've done a quality job for the price.
Final Scotch-Brite Lint Roller Review
Scotch-Brite lint roller makes the grade, and if you just want a simple roller without a lot of outlandish claims on how many different ways you can use it, it's a good choice. But lint rollers are getting a serious makeover and are being marketed as a versatile cleaning tool you can use to pick up all sorts of things around your house. If you're of the mindset that you can only use a lint roller on dress clothes, you'd be surprised to find that today's rollers want you thinking of them each time you spill cereal and other dry messes, or even as a way to clean carpeted steps instead of using a vacuum.
Our Recommendation
These are nice to keep around in strategic place like the glove compartment in your car, or on your dresser. If you don't use a lint roller too often, they should last you quite some time. If you find that you get a ton of use out of your rollers, you might want to get one of the reusable rollers like Sticky Buddy so you don't have to go through sheet after sheet. These are especially good for cat and dog owners that can go through multiple sheets just with one pass of a hair magnet of a sofa.
What do you think? Does Scotch-Brite Lint Roller work or not?