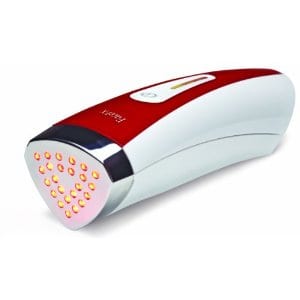 The Silk'n FaceFX looks pretty futuristic, and the more you delve into how it works, the more advanced it seems to be. It allegedly uses phototherapy and a series of light emitting diodes to stimulate the production of collagen in your face, making the skin more elastic and youthful. But can a device like this really provide anti-aging benefits, or is it all just a dog and pony show?
Overview
The face is the one body part that shows the most signs of aging. It makes sense because we use it more than anything else on our bodies. We're always making facial expressions, talking, laughing, smiling, frowning, and much more, so it's no wonder that it wears out. It's gotten so much use. The kicker is that it's also the most noticeable part of the body, and where people's eyes go most of the time. So it's something you'll want to spend extra time keeping up with, and making it look its best.
The Claim
FaceFX claims that it can help you lessen the appearance of wrinkles on your face, while improving the texture of your skin. It can also brighten up any dullness you may have in the color of your skin, and reduce the size of your pores.
They say you can treat some of the most commonly frustrating areas when it comes to showing the signs of aging, like the neck, the cheeks, the forehead, under the eyes, around the mouth, and on the side of the eyes where crow's feet form. They say the results are long-lasting, and that it's proven to work.
The Hype
These days, anti-aging products are all the rage. You can expect them to get more and more popular as the American population, specifically the baby boomers, continues aging. Nobody wants to get old, and even more, nobody wants to look old. We live in a very image conscious society, and it doesn't look to kindly on wrinkly faces, unless they're on an octogenarian. There are pills and lotions and creams and gadgets out there, all designed to fool Father Time into turning things back a little.
The Cost
Silk'n FaceFX is $300. This may seem like a big upfront cost, but once you have it you can use it whenever you want, and you won't be at the mercy of going to a salon, or buying a suite of beauty products to go along with it. They say you can enhance your experience by using other Silk'n products with it, but this should produce enough results on its own to save you from having to buy a lot of anti-aging treatments.
The Commitment
You will want to use this every day so that you can start to accumulate the results. If you just use it once or twice, or use it sporadically, you aren't going to be happy with what you see. This is something that will pay dividends the more consistently you use it. You should also consider eating right, because the foods you eat still have an effect on your skin, and how good you feel. If you are feeling good you will radiate youthfulness, and that can often be all that you need to look good.
Evaluation
At this price point you're not going to see too many people reporting back on the FaceFX system. The reason is if it doesn't work for you, you don't want to announce to the world that you paid this much for something that didn't work. If it does work for you, you're not going to want to tell everyone what your secret is. The before and after pictures posted on their official site look promising, but in the age of Photoshop there's no guarantee that they're genuine.
This is one of those products that you're either going to have to buy into, or pass on. If you look at their How It Works page, and it makes sense to you, and you can subscribe to what they're saying, then pull the trigger and get this. If it sounds like it's not feasible that they could get a device to do what they claim it can do, then pass on it. In the end, you're going to need to have your belief level pretty high so that you give it a fair trial and stick to it long enough to see results.
Final FaceFX Review
The Silk'n FaceFX is definitely an interesting product, and should work, but at the present moment it is still inconclusive. There aren't enough actual reviews from real users to make a determination as to its effectiveness. The company itself is solid, and we were able to give a Thumbs Up to the SensEpil hair remover, so that tips it a little in their favor, and chances are it does what it says. We're giving it a tentative Try rating, but you should consider other anti-aging treatments first.
Our Recommendation
This is something that you might want to consider if you have deep lines and wrinkles, or better yet, if you foresee the wrinkles you have getting deeper. It's not going to bring you back to your glory days of your 20s, but it seems to turn back the clock about a decade or so with repeated and long term use. And really, you wouldn't want a drastic turnaround, because people would assume you got a procedure done. With gradual improvement that doesn't go too far, you can always credit it to healthy living and eating your vegetables and keep it your secret.
What do you think? Does FaceFX work or not?