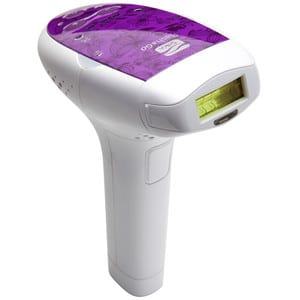 The Silk'n Flash&Go is a hair removal system that looks a bit like a portable price scanner. Silk'n has a pretty good track record with handheld skin and beauty gadgets, so it's not too surprising to see that this is getting good reviews and creating a buzz. We analyzed what people are saying and looked at some real world results to come up with the answer of whether it really works or not.
Overview
There are plenty of companies that are trying to win the war on unwanted body and facial hair. Each has their own way of going about it, but the ones that seem to be working best are the ones that bring professional caliber equipment into the realm of the home. By making it possible for users to treat themselves they are putting the power in their hands and freeing them from the need to leave the home or pay inflated prices for the same results.
The Claim
Silk'n, the makers of the Flash&Go system, claim that their device can permanently get rid of the face and body hair you don't want. They say that it can work for sensitive skin in areas that usually require their own special treatment, like the bikini area or the mustache. They also claim that the treatment sessions don't take very long and the device maintains its full charge because it's not cordless. They go on to state that you'll be able to achieve smooth skin without the problems that come with shaving and other methods, and that it's relatively affordable for what it does.
The Hype
Removing unwanted body hair is big business and there are a host of products, techniques, and treatment options ranging from the very cheap, painful, and ineffective to very expensive, relatively pain-free, and very effective. Usually you end up sacrificing one of these three qualities for the others, choosing a procedure that is cheap and putting up with more pain, or settling for less effective results because it doesn't hurt. Any time a product comes around claiming to be relatively inexpensive, painless, and works really good is cause for some hype and attention.
The Cost
You can buy the unit for $250 at Amazon, and it goes for $300 at the main website. At first glance it might seem like a lot, but when you consider that you'll be able to use this for the long term rather than just once or twice, it begins to look more reasonable. You might pay $100 or more for one session at a laser treatment place, and then they'll string you along for multiple sessions, putting your total cost well beyond this price.
The Commitment
With any hair removal process you're going to have to commit for multiple treatments over time to see the results you want, and that's also the case here. But unlike other treatment options you don't have to commit to a lot of pain and suffering with this, and it's not as if you have to use it frequently, with upgraded models reducing the time you need to spend with it to achieve good results more quickly.
Evaluation
The Silk'n Flash&Go has been cleared by the FDA, and can be used by both sexes to get smooth skin in areas where hair just doesn't belong. The technology it uses is pretty advanced for an at-home unit, and years ago you wouldn't be able to get this sort of treatment unless you went to an office or clinic. Once you jump on board with the idea of sticking with this over multiple treatments and start seeing results the cost will seem very reasonable and you'll join the majority of others that are pleased with their purchase.
One interesting feature that it has is that it senses the tone of your skin and adjusts itself accordingly during the treatments. This means that it will be better able to keep an even tone to your skin and it knows not to go over the same spot twice in one session, making it more foolproof and easy to use at home and without the need to seek out a professional and pay extra for an office visit.
Final Silk'n Flash&Go Review
The Silk'n Flash&Go has passed the test of real world use and has been winning people over for some time now. Of course there are those that say they didn't see results with it, but far too many say they have, and have even come back to post updates on how it works for the long term. With a product at this price point people often regret their purchase and will be more inclined to try it out a few times and say it doesn't work, but for those that give it the time it requires the feedback speaks for itself.
Our Recommendation
If you're tired of shaving and waxing or using depilatory creams this would be one way to go to get the smooth skin you're wanting. It's nice that it doesn't require any extra peripheral purchases or ongoing costs so the one-off expense is easily justifiable when comparing it to methods that are just as effective. In fact, some professional hair removal treatments don't get reviewed as highly, and people often regret spending thousands of dollars on them and not getting results. They've even changed the name to hair reduction treatments since so many people don't see permanent removal.
Official Website: Silk'n Flash & Go
What do you think? Does Silk'n Flash&Go work or not?