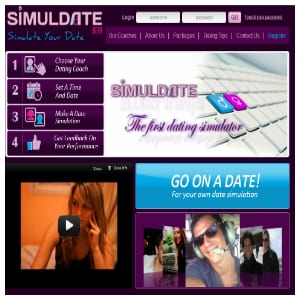 Simuldate says it can help you if you've ever wondered what went wrong after a failed date. This is designed for both genders to try to figure out what they're doing wrong on a date, and also to figure out what is actually working for them. But can simulating a date actually help improve your abilities when in the moment? We checked this out further to see what the service actually entails.
Overview
Dating is definitely something that is not easy, and most people would say it doesn't come naturally. In fact some of the more successful daters out there probably had a lot of trial and error and only got good because of the volume of dates they went on, and the lessons they learned along the way. So the premise here is that you can get this sort of experience, and get some feedback, without actually leaving your home.
The Claim
Simuldate claims that you can simulate your date with one of their coaches and learn firsthand what you are really like while you're on a date. They have a few different dating coaches that you can choose from, and you are supposed to be able to pick your day and time and set the date so that you can video chat with them and they can see how you would interact in a dating situation. After the "date" is over, they will assess how you did and provide you with feedback that you are meant to be able to use to correct your mistakes and do better in the real world.
The Hype
Dating is the Achilles' heel for many people because for most it is not something that is done very often, and therefore has a lot of pressure placed on it. Even though we're all pretty great people inside, if you're not able to show that off to someone that is deciding whether they want to be with you or not, it can be very frustrating. So any product or service that is telling you that it can help your dating abilities is going to have some hype to it because of the strong desire to learn how to be better at dating.
The Cost
Simuldate is $12 for a 25 minute date. At some point in the future they will be offering more expensive packages at higher prices, but for now that's all they have. With your order you get a full feedback report from the dating coach, as well as exercises and training materials that are designed to improve your abilities while on a date.
The Commitment
The dates that you set up last for 25 minutes, so you'll need to clear some time in your schedule and make sure you have no distractions during that time. It's a good idea not to rehearse what you're going to say and treat it as if it's a real date. This means that you should just be yourself for 25 minutes and say the things that you would normally say, and not try to say what you think you should, or what they want to hear. It might be a little awkward at first, especially if you're not used to video chatting, so it might be a good idea to video chat with a friend first, to get the feel for it.
Evaluation
Simuldate is implementing a tried and tested learning method. NASA even uses simulations to train their astronauts, so something must be said for the ability to create a role-playing environment and re-creating a real-world situation. By talking with someone as if you were on a date, and having what you are saying being analyzed for effectiveness, you are coming close to an actual encounter with the opposite sex. Being able to push back the curtain and get the feedback that is so often lacking after a bad date, you'll finally know what you've been doing wrong this whole time.
We tried taking the service for a test run but were unable to find a coach that was available. Right now it is pretty slim pickings as far as what you have to choose from, with only three male coaches, and two female coaches available. They are still in beta, which means they are still working the kinks out and trying to get to the point where the service is at 100% capacity. At that time it might be worth checking out to see if they have more coaches available at more times.
Final Simuldate Review
If Simuldate can pull off their grand vision, and lure enough dating coaches to make it viable, we'd have to say that it would be a pretty good way to learn what you're doing wrong and also get some positive reinforcement on what you are doing right. The concept is a good one, and they are still in the early phases so it will be interesting to see what they accomplish in the next few months. For $12 it seems like a reasonably priced option to try to gain insight on how you are perceived by the others.
Our Recommendation
For now, we'd recommend going with a dating guide program or some other way of training yourself on what to say during a date. But you can also try checking back on the Simuldate website to see if they've recruited more coaches. We will keep tabs on them as well and update this page if we can ever get a date lined up with one of the coaches.
What do you think? Does Simuldate work or not?