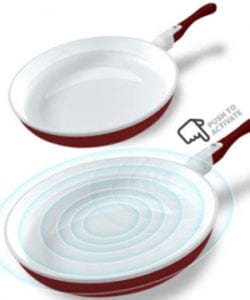 The Sonic Pan is a frying pan that has a built in sonic mechanism that keeps the food moving, so it won't stick to the pan. Does this really work and for how long?
Overview
This product is a piece of cookware that is made so that it keeps the contents slowly moving in order to stop it from sticking and burning. By achieving this it means that there is no scraping to remove the stuck on food or running the risk of having a good meal burnt.
The Claim
The Company claims that they are the only manufacturer of a non stick ceramic pan that really means it won't ever stick. They also claim that no stirring is required as the food stays in constant motion. They also indicate that because the heat is distributed evenly there are no hot spots created so food won't burn.
The Hype
Being as the company is claiming that the Sonic Pan is the first of its kind, it has had to develop its own hype. In the past there has been a lot of hype around other types of non stick pans so the company can capitalize on this, but they have taken it one step further with their sonic feature. This added with the desire that most people have in not wanting their food to stick and burn, plus make for easy clean up is probably enough to catch most food lover's attention.
The Cost
When you consider all of the purported benefits the price of $28. which includes the shipping and handling is pretty reasonable. Plus as a bonus you get an extra sonic pan but you have to pay the shipping and handling of $8. on this. So in total you are paying $36. for the two pans. There is no mention of a guarantee.
The Commitment
You are going to have to follow the directions for its proper use and cleaning. Also you are going to have to remind yourself to activate the sonic action by pressing the button on the handle.
Evaluation
There are some really good features and benefits that come with this pan. The fact that it is ceramic lends to easier cooking with less risk of sticking. Then the continuous motion that the mechanism allows for makes good sense as to why the food won't stick or burn. The fact that it means you don't have to be constantly stirring the food is a big bonus too.
Final Sonic Pan Review
This product deserves a solid Try/Buy rating. We have reached the conclusion based on the common sense features that it has. Keeping the food moving definitely reduces the risk of sticking and burning. The fact that you don't have to do this manually is impressive. Plus, it says the pan is ceramic and not just ceramic coated. What prevented a thumbs up rating is simply because it possesses a new concept that there is nothing to compare it to as yet. It may be a fantastic product but there is no proof as to its durability and longevity, so based on that it doesn't get a thumbs up from us as yet.
Our Recommendation
Many people end up buying several pans of this size with the real hope that this time they are going to live up to their word and not stick. They are great for the first few uses, but before long many of them resort back to the old standard stick and burn type. Usually because the ceramic or special non stick coating has become scratched or has worn off. There are a few exceptions to this as you will see in our review of the Yoshi Blue Pan. If all the claims that the makers of the Sonic Pan are believable then maybe things are about to change in the cooking world. It really is worth giving the Sonic Pan a try just based on the price. If you compare this to what also seems to be a good quality non stick pan that is receiving decent reviews but costs substantially more, then there is good value to be had with this new product.
What do you think? Does the Sonic Pan work or not?