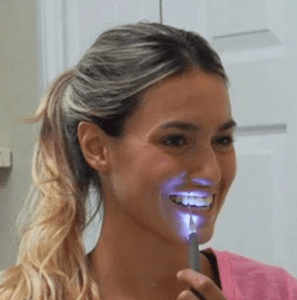 People don't really realize how important it is to keep up with making sure your mouth, and your teeth, are taken care of. With the Sonic Pic Dental Cleaning System, it will help to ensure that you are able to clean your teeth and provide a much better dental hygiene program than what using a normal toothbrush could possibly provide for you.
Overview
With the Sonic Pic Dental Cleaning System, you are able to take the cleaning of your mouth up to another level, which will help to make sure that you're getting the best dental care possible. This system uses gentle sonic vibrations that will help you not only remove the stains from your teeth, but it will help to remove the tartar and food particles that can be left behind as well.
The Claim
What makes the Sonic Pic Dental Cleaning System so unique is the way it works to really keep your teeth clean, similar to the way that a dentist would do their job. You have a few different cleaning utensils, including a removable scaler tip that helps to really get rid of difficult stains, as well as food that might be hidden in some of the hard-to-reach areas in your mouth. Then you have one of the most important parts the toothpick like tip that removes particles on your teeth as well as plaque and even more difficult stains. These are all attached to an ergonomic handle that comes equipped with an LED light so you can see anything you might have missed when you are doing your cleaning.
The Hype
The big hype with the Sonic Pic Dental Cleaning System is that you are able to get some of the big results that you would normally see at a dentist for a fraction of the cost and it is a gentle at home dental cleaning system. It uses gentle sonic vibrations to remove tough stains that builds up over time, and this will give you not only whiter teeth, but healthier gums as well. You also will receive the silicone flossing tip for free, and as stated, this unit is totally safe for veneers crowns and even implants.
The Cost
The cost for the Sonic Pic Dental Cleaning System is $14.99 plus shipping and handling.
The Commitment
The commitment with the Sonic Pic Dental Cleaning System is that you are going to be required to use it on a regular basis.
Evaluation
The Sonic Pic Dental Cleaning System is great for helping to keep those types of teeth clean with minimal effort compared to using a regular toothbrush. Even for just those individuals that want to keep their teeth cleaner than using a regular brush, this product would be a great item to have.
Final Sonic Pic Dental Cleaning System Review
After checking out the many reviews that people have posted in regards to the Sonic Pic Dental Cleaning System cleaning properties, it turns out that this is definitely an item that works better than what would be expected for the cost. It is not a highly advanced piece of equipment and certainly not near the type of quality ultrasonic units that would see at a much higher cost. With that being said, for the cost it is definitely worth the money, as it is definitely going to help clean your teeth better than any brush would.
Our Recommendation
Cleaning your teeth of course is a priority, but it is also important that the toothbrushes you use are kept sanitized and for this some people rely on Violight.
What do you think? Does the Sonic Pic Dental Cleaning System work or not?