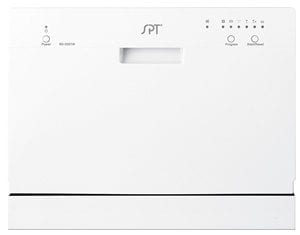 Just because you don't have a big house or because you live in an apartment it doesn't mean that you should be deprived of the luxury of having a dishwasher. For those whose residence just won't accommodate a standard dishwasher then the SPT Countertop Dishwasher could be the ideal solution
Overview
The SPT Countertop Dishwasher is compact in size at about 21.65 x 19.69 x 17.24 in which sits nicely on your countertop. It is quite nice looking so it should blend in nicely with your kitchen décor.
The Claim
The promoters of the SPT Countertop Dishwasher put emphasis on the quality of this product stating that it is durable and made of stainless steel components. It is compact yet indications are that it can hold up to 6 standard place settings.
The Hype
The hype really focuses around not having to use up precious space for a standard dishwasher. Plus the SPT Countertop Dishwasher doesn't require complex plumbing.
The Cost
The cost of the SPT Countertop Dishwasher is $230.95
The Commitment
There really won't be much of a commitment on your part other than to enjoy the benefits that a portable dishwasher like the SPT Countertop Dishwasher has to offer. The one thing that you are going to have to consider is that you will be giving up counter top space to house this unit so you have to make sure that you can afford space wise to do this.
Evaluation
The solution that the SPT Countertop Dishwasher provides are definitely good ones. There is certainly a need for this type of product and especially for those with small kitchens, or for those who live in apartments where they are not allowed to have a conventional dishwasher. Often one of the problems that some face with a unit like this is that it is simply too small and it's not worth their while to invest in it.
Final SPT Countertop Dishwasher Review
For those that feel that the capacity of this dishwasher will be adequate enough we are going to give this a thumbs up. This is also based on our findings that there are many positive reviews of the SPT Countertop Dishwasher. What many like are the 6 wash cycles and they find the overall performance of this unit to be quite good. There are few complaints about the dishwasher not getting the dishes clean. We are prepared overall to give this product a thumbs up because of its reviews, quality and reasonable price.
Our Recommendation
Make sure that you read all the data pertaining hookup that is applicable to the SPT Countertop Dishwasher as although it will work well with most faucets there could be some issues with some types. You don't want to get this unit paid for and delivered then discover you have to do a lot of modifications to your plumbing or replace your faucet to accommodate it. Now if you think that perhaps a portable dish washer is just not for you but you would like some additional help with your dishes then you may want to check out Easy Dish.
What do you think? Does the SPT Countertop Dishwasher work or not?
[kkstarratings_custom_footer]