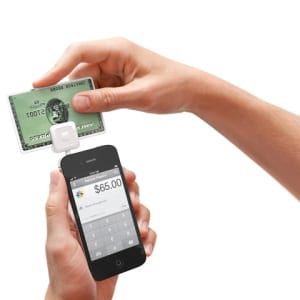 Square is a way for you to accept credit card payments pretty much anywhere by using your Android powered device, iPhone or iPad. Customers sign their name with their finger, and everything is processed securely using your phone's data connection. If you've got a business and have seen this in action, either on TV or in real life you immediately thought it would work great, if it really works.
Overview
For years now certain small businesses have had to either turn away business or figure out some other way to take payments on the go, but those times are quickly changing as mobile devices are being equipped with small and simple card readers. This means that any business, no matter how small or large can give their customers more ways to pay than just cash and they can do it right at the point of sale, whether that's on a beach, in a gym, or at the customer's home.
The Claim
In the Square ads on TV they show the unit in action and its basic premise is that it will give the ability to accept credit card payments anywhere, especially to businesses that have typically had trouble accepting them in the past. Since most everyone these days carries their smartphone with them, the system is ultra portable, and very easy to use. Customers are very comfortable signing their names with their fingers, and the transaction is supposed to go very smoothly and quickly.
The Hype
It seems that there are about 4 solid contenders all trying to be the mobile payment processor of choice, and they're all coming out with similar technologies at the same time. That means there's sort of an ad blitz going on as they each try to gobble up market share. Square was founded by Jack Dorsey, who also created Twitter. Other contenders that have thrown their name into the ring are payment processing giant PayPal, as well as tax software maker Intuit.
The Cost
The pricing structure comes with two different options. You can either pay by the swipe, or by the month. If you go for the per swipe option it's 2.75% per swipe so on a $20 transaction there'd be a 55 cent fee. If you know that you do enough volume each month to justify it you can simply pay $275 and then it doesn't matter how many transactions you complete. The simple math shows that you'd need to do $10,000 or more per month in order to go monthly instead of each swipe.
Compared to the competition, the per swipe fee is a smidgen higher than both PayPal and GoPayment which both clock in at 2.7% flat. The monthly rate is much higher than GoPayment which is just $12.95 a month but also includes a per swipe fee in addition to that which must be factored in when making your decision.
The Commitment
They'll send you the card reader for free, so as long as you're on the per swipe payment method there isn't any financial commitment or contract involved. You can use it as much or as little as you want. In should also help you streamline the way you accept payments, and if you get into the analytics and tools that are included in their service it could even help you find ways to improve your business and make it more efficient, or find out new things about your consumer base.
Evaluation
At a concert recently we got to see the Square payment processor in action as they were using it to sell the t-shirts and other memorabilia. It worked out to be just as fast for the customer as a stationary card swiper that you find in stores. This is an example of a medium-sized business using the system effectively, and there's no reason to think that if it can process many orders in a short period of time it should easily be able to handle the occasional sale for a small business.
With added features in their "Wallet" like customers being able to speak their name in order to pay, and having their name and picture show up as visual verification for the sale, they're taking a step towards revolutionizing the payment process altogether. The way we pay for things has taken a lot of twists and turns over the last few decades. It used to be just cash or check, and then credit cards became the norm, and now we're getting a glimpse of a future where nothing will actually change hands, and the payment will be securely completed.
Final Square Review
The Square system is getting our Thumbs Up review, even if they are just a tad more expensive per swipe than other services. The additional features put it over the top and make it a solid try for any business that's been wanting to revamp their payment acceptance process. You should also take into consideration the competition, such as PayPal Here and GoPayment by Intuit, and since they'll all send you the readers for free there's no reason not to give them all a try and see which one suits your needs best.
Our Recommendation
If you've been looking for a way to get your business to go mobile, this would definitely be something you'd want to try to see if it meets your needs. They mention some of the more likely users in the ad, such as personal trainers, or any type of mobile business that goes where the customers are. After seeing this work we're fully confident that you'll be happy with it.
What do you think? Does Square work or not?