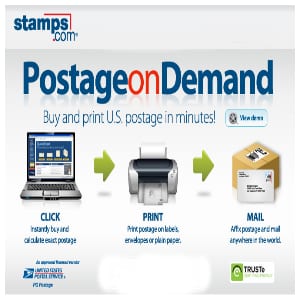 Stamps.com has many different features that basically let you circumvent going to the post office to buy postage. It also lets you weigh your own mail at your home or office with a scale so you're getting accurate postage rates and won't overpay. For individuals and business that rely heavily on sending out mailings, this is something you'll want to take a further look at, but only if it actually works the way it says.
Overview
The USPS has a pretty well-known reputation for not having the best customer service, and with the emergence of email and attachments it's easy to see why they lose billions of dollars each year to maintain their operations. Making a daily or even a regular trip to your local post office can mean hours of wasted time, and depending on how far away it is, gallons of gasoline. That's what makes their premise so enticing, because it could really change things for the better if it lines up in your sweet spot.
The Claim
Stamps.com claims that you can get all of your postage needs met without having to make a trip to the post office or wait in line. They also say you'll be able to save a lot of money on your mailing costs because there's no hidden fees involved, no service charges, and you don't have to pay to insure your equipment. They also say they've gotten rid of the need to buy ink for your postage meter.
They also say that you'll be able to get more done than you can with an ordinary postage meter. This is because you're able to print your postage label and you shipping label simultaneously. There's also a visual display that shows you how much it would cost to ship you item using each mailing class. For business owners it lets you figure out who is using what postage, how much they're using, and what they're using it for.
Potential Drawbacks
The only real way this wouldn't make sense is if you don't have the type of mailing volume that justifies a service like this. But it's not too much of a big deal because during your trial you'll be able to figure out if you want to carry on with it, and after you start paying for it you'll quickly be able to determine if it represents a cost savings or if it's taking away from your bottom line.
The Cost
The monthly charge for Stamps.com is $16 a month, and you get a free trial period of four weeks. When calculating your current postage costs, you'll want to also factor in how much time it takes you, and how much transportation costs to get to and from the post office. If you are paying an employee to handle your postage, that is a little bit easier to come up with, but if you're handling it yourself, you'll have to put a price on your time in order to get a real number.
The Commitment
You don't have to sign on for a multi-year lease when you sign up with them. You simply pay the monthly services charges as you go along, and stop whenever the service doesn't make sense for you any more. When you think of the cost of gas rising and driving to the post office, the time cost of standing in line, and the cost of getting your postage wrong and overpaying, this should be a reduction in your commitment level, both financially and how much time it frees up.
Evaluation
Stamps.com does everything in their power to make you want to stay on with them. They send you a start up kit that includes a scale so you can get the exact shipping rates, they have free tech support you can call if there's ever a problem, and they make their peripherals easy to install on your computer so you're not stuck wondering how it all goes together, or how to use it.
One of the features that many small business owners are going to like is the ability to send out invoices and get a mass mailing ready very quickly and easily. This can turn a tedious task into something you don't dread anymore and can help your business run more efficiently, or grow.
Final Stamps.com Review
We're giving Stamps.com a Solid Try rating because of it's easy to use interface, and the time savings it provides by letting you avoid going to the post office and calculate just the right amount of postage you need from your home or office. These days we're all trying to cut costs wherever we can, and that's why you've got to keep your eye out for an opportunity to potentially save dozens or even hundreds of dollars per month depending on how heavily you send out mail.
Our Recommendation
Since each person and business has their own unique postage needs it doesn't hurt to try out this service to see if it saves you money and/or makes things easier for you. There's really nothing to lose, you'll either save money or you won't, either way you can always revert back to your prior methods or seek out a better way. But they've stood the test of time and seem to have their system down pretty well and should be able to accommodate most mailing needs.
What do you think? Does Stamps.com work or not?