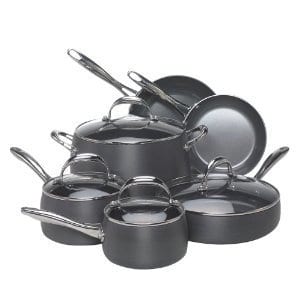 StoneDine cookware bills itself as the only cooking set you'll ever need, which is a pretty bold claim considering the wear and tear that pots and pans go through for the average household. But they're pretty confident that their cookware is made to last, mostly due to it containing actual stone in the construction. But can these really perform as advertised?
Overview
A top-notch cookware set is at the front of most at-home chef's list of things to have in their kitchen. Since it's the focal point of most meals, you'll want a sturdy fry pan, pots of various sizes, and matching lids so each pot and pan can be easily covered. Even though they've tried to make this a complete set, you're only getting 8 pieces, and that includes the lids. so for many aspiring chefs there will be plenty of room left to make this a full collection.
The Claim
StoneDine claims that their cookware set is non-stick, easy to clean, and resists scratching and wear and tear because of what it's made of. After some digging around we found that they've been around for some time now, and were once called StoneLine. The reviews on these pans are iffy, and there's no concrete evidence that they'll provide the same sort of performance that is depicted in their promo ads.
The Hype
The hype here is in them saying that you won't ever have to replace this cooking set as long as you own it. Most people know that these lifetime sort of statements hold little water because few people ever take them up on the challenge. Also, their ads play a big part in the hype, as they show the host putting a bunch of actual stones into the pot and stirring them around. You definitely wouldn't want to do that with your current non-stick cookware, and it shows that the materials used can handle abuse but still not stick.
The Cost
The advertised price is $30 with an extra $28 in shipping, plus a host of bonuses they say totals $146. Here's the details of what you're buying into: They'll send you the entire package so you can try them out, which includes an 8 piece cooking set and a knife set as well. If you don't cancel your further orders you'll be billed $30 each month for 9 months for a total of $300 plus the $28 shipping. If you do return it, they'll give you the first $30 back, but you'll be stuck with the $28 in shipping, plus whatever it costs to return the items to them.
The Commitment
You're the best judge at determining if you do enough cooking to potentially drop $330 on a cookware set. If you feel that you will definitely get your money's worth then you likely have the commitment level already in place. But some people see a cookware set as a way to bolster the amount of cooking they do at home. This rarely happens, and what is more likely is that the set will collect dust from non-use. First establish the cooking habit, and then invest in a good cookware set – but not this one.
Evaluation
Even though StoneDine seems like a good deal when you first see it, the price is enough to turn most people away. It's as if they're living in some sort of bubble where people aren't able to find fantastic cookware sets for the same price or cheaper in just a few clicks. This offer might have worked about 20 years ago, but these days it's too easy to find competing products that don't need to be sold on a trial basis because they've already got plenty of positive feedback from actual users.
This is a can't lose situation for the makers of StoneDine. If they ship out the product and it gets returned, they still pocket the difference between what it actually costs to ship, and what they charge. If it doesn't get returned, they get a steady flow of cash for the next 9 months. They have a 12 year warranty, but details on how that works are not provided until you receive your set in the mail. Be sure that it will be set up so they pay nothing in order to honor it.
Final StoneDine Review
Save your money on this one. While they do put together an attractive offer, for the money you're paying you're better off getting a highly rated cookware set that has been peer tested and approved. For the money we're giving StoneDine a Thumbs Down. For this to be a deal they would have to offering pots and pans that rival the kind that professionals use in top kitchens, and we couldn't find any trace that this is the case.
We're always on the look out for awesome kitchen utensils that make your job easier. At first we were excited to see the StoneDine offer, but were less impressed the further we got into the details. Rest assure that we'll keep our eyes open for the next latest and greatest cooking marvel to hit the airwaves.
Our Recommendation
Check out this awesome 17 piece cookware set that we found that get stellar reviews and clocks in at $80 less that the StoneDine set, and has free shipping to your door. This really has everything you need to emulate your favorite TV chefs and feel like you have a pot or pan for every kitchen job under the sun.
What do you think? Does StoneDine work or not?