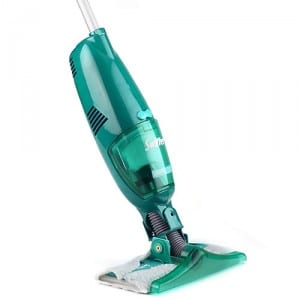 The Swiffer SweeperVac is designed to replace your traditional broom and dustpan and make it a lot easier to get clean floors. If you haven't made the switch to the original Swiffer Sweeper, you're likely in the minority, so this might represent a good opportunity to catch up with the Joneses, and if you're already a fan of the original, you might be wondering if it's worth it to upgrade. We've got the scoop on this broom that things it's a vacuum.
Overview
It's clear that the old way of cleaning up floors was, well, getting old. Something new had to come along because there were just too many things wrong with a broom and a dustpan. For one, it's always so hard to get that last little line of dirt and debris onto the dustpan so you can get rid of it. And also dirt, dust, and hair sticks to the end of the broom, forcing you to push it all over the room before finally finding its way into the rubbish bin. When Swiffer unveiled their Sweeper, it quickly caused a stir and won over many users.
The Claim
Swiffer says that its SweeperVac is guaranteed to pick up more of the dirt, dust, and hair from your floors than you'd be able to pick up using the old broom and dustpan. They're so sure of this that they're willing to give you your money back if you're not sufficiently impressed. That's a pretty bold claim, as we each have our own idea of what clean is, but if they're willing to put their money where their mouth is, it's only fair to take them up on the challenge.
They claim that no matter how big your mess is, or on what type of surface, they'll be able to clean it up easily. The reason they cite is that it's got a cordless motor that provides the suction power so you don't have to worry about the cleaning clothe getting overloading with things like pet hair, cereal bits, crumbs, and anything else that finds its way to the floor. They say it's also got the Swiffer dry sweeping cloth that is able to clean between grout and other nooks and crannies so you get your floors fully clean.
Other features they boast about are its light weight and compact size, and that it doesn't need you to replace any bags, as its bagless. So they are pretty much presenting a rechargeable, bagless, versatile vacuum that only needs a new cloth put on from time to time.
The Hype
The original hype was caused by Swiffer when they came out with their Sweeper that was designed to replace your broom. The idea was such a killer app that most people ended up getting one, and tossing out their old way of sweeping floors. The hype carries over to the SweeperVac because now it actually picks stuff up like a vacuum so you don't have to worry about just moving it around your floor.
The Cost
The Swiffer SweeperVac retails for $40 for the starter kit, and then you can use standard Sweeper replacement pads when you want to change them out.
The Commitment
This should really lessen the amount of time it takes you to properly sweep your kitchen or bathroom floors, or anywhere else you solid floors without carpeting. If you have babies or pets you will definitely like the fact that you can easily pick up dirt, food bits, and pet hair without making it a big time chore.
Evaluation
The Swiffer SweeperVac is packed with features, and really over-delivers. You'll notice several upgrades over the ordinary Sweeper, including a power light that lets you know when it's running. It'a also got a rechargeable battery so you can use it just like the original and not have to be worried about how far you can go with it before running out of cord. It's got a nice grip, so you won't strain your hand or wrist while using it, and it's got a visible dust cup so that you can see when it needs to be changed out.
What People Are Saying
The SweeperVac gets strong support from those that have bought it and used it in their homes. In fact, the overwhelming majority of users give it 4 or 5 stars and would recommend it to others thinking about purchasing it. It's clear from real world tests that it actually does pick up a good amount from your floor, and the consensus is that if you use it just once you'll be blown away by how much stuff is actually on your floor, and how much you've been leaving behind when you did it the old way. A quick way to make a believer out of yourself is to do a comparison test when you first get it. Get your floor as clean as you can with a broom and then go over it again with the SweeperVac.
Final Swiffer SweeperVac Review
The Swiffer SweeperVac is getting our Thumbs Up review here because they've made some serious upgrades to their original Sweeper. We like it when a company listens to the feedback that it gets from its customers and delivers new products that meet those needs. By adding suction power, it eliminates one of the drawbacks to using the first Sweeper than came out. You'll be able to do a more thorough job than you were able to before, and if you're still using a broom and dustpan, this is a nice welcome to the 21st century.
Our Recommendation
If you have been looking for something to keep in your broom closet besides your broom, this is what you should get. The price is reasonable, and the results speak for themselves. You just have to try it out once and you'll never look back. Just promise not to get too grossed out thinking about how dirty your floors have been all this time.

What do you think? Does the Swiffer SweeperVac work or not?