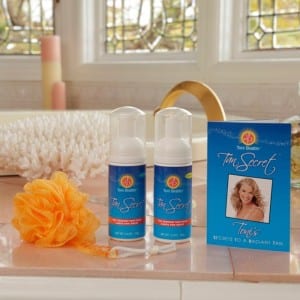 If you want a sunless tanner you can apply while you're in the shower, then the makers of Tan Secret want to talk to you! They say this is an odor-free, mess-free way to get a tan without having to bake in the sun, or pay fees to a tanning salon.
Overview
Most people that have ever tried to use a self tanner know that it's not the easiest thing in the world, and it comes with a mixed bag of results. Either your skin ends up looking to orange, or it gets too dark too fast, or it doesn't last more than a day or so. Not to mention that it stinks so much you can't really be around anyone. There's also the chance of leaving telltale streaks behind so everyone that sees you knows exactly how you got your "tan".
The Claim
With Tan Secret they're trying to address all of those concerns with one solution, and have incorporated the shower as the best way to pull it off. Since you're already naked it's easy to use the product on all of the parts you want covered. You can also use it without worrying about getting your bathroom countertop or floor messy. It shows you where it's working almost instantly so they say you won't have to worry about streaks, and it rinses off right after you apply it, so there's no waiting around in the shower.
They also say that you don't have to worry about it staining your bathtub or shower floor, and you won't have any concerns about the smell because it's odorless. Pretty much every complaint that users have about sunless tanning products has been addressed here. The only question remaining is did they actually crack the code and get it right with this one.
The Hype
The product was invented and is presented by Toni Brattin, who you might recognize as a spokesperson from the Home Shopping Network, and who has now branched off on her own with her own line of hair and beauty products. She seems to have learned a thing or two about how to present a product and make it really easy to try out.
The Cost
They have this set up so that they're basically begging you to try it out. For $35 they send you a bottle of the mousse that does the actual tanning, an application wand and gloves so you don't stain your hands, and a tanning gel that is supposed to enhance the look of your tan. It's covered by a 30 day guarantee, and they have it so that you're spending $15 on shipping, which represents how much you're risking by giving it a try.
The Commitment
When you compare this to your other tanning options, it becomes pretty clear that this represents very little in the way of commitment. If you were to get a real tan, you'd have to spend time lying out in the sun, or going to a tanning salon. If you use a sunless tanner you'd have to follow those steps which usually require not only the application process, but also waiting around to see the results and trying to fix any mishaps like going over the same spot twice.
Evaluation
Toni Brattin actually broke into the home shopping business while promoting a sunless tanner, so this isn't her first pony ride. She really seems to have a passion for this type of product, and the concept behind it is a solid one: it just makes sense to apply a sunless tanner in the shower, as this is the one place where you don't have to worry about getting things messy, and when you're applying a sunless tanner you're probably getting naked, or close to it, anyway.
The feedback on Tan Secret has been most positive, and while there are definitely those that say it didn't work for them, the majority of users say that they're happy with the results they're getting. The overall suggestion is that if you've used a sunless tanning product before with somewhat good results, you'll respond well to this. It's also been noted that if you're new to the world of self-tanners this is a good jumping off point, since they've made it super simple to use and apply, and there's wiggle room for error.
Final Tan Secret Review
We're giving the Tan Secret kit out Solid Try rating, based on the feedback it's generating, the relatively low cost to give it a try, and the somewhat low risk if it doesn't work out for you. With all of the different skin types, and skin tones, it's highly likely that some people will not respond to this, and it would be hard to find a tanning product that works for every single situation, but they have removed as many blocks as they can that might stop you from at least trying it. Worst case scenario you're out $15 if it doesn't work at all, and best case you could have a nicely priced sunless tanning product that gives you fantastic results.
Our Recommendation
If a natural, healthy-looking tan is your goal, there are several different options for you to try, each with their own pros and cons. At the end of the day you have to find a system that works for your particular skin type, and one that you feel you can stick with and maintain for as long as you want the tanned look. If you've tried products from the store and they gave you limited results, or were very nearly just right, you should give this a try and see if it solves the remaining problems.
What do you think? Does Tan Secret work or not?