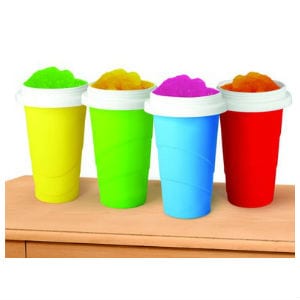 The Chill Factory is a slushy maker that says all you need to do is squeeze it a bunch of times and it will turn your favorite drink into a slushed version. It's already been released in the UK under the name Chill Factor, so what are people saying about this latest entry into the at-home slushy craze?
Overview
The concept of making slushies at home has been around for awhile, and these days it seems like the smarter alternative than spending anywhere from $1 to $3 for a slushed drink at the local convenience store. It represents just a one-time cost and can quickly rack up the savings if you're a frequent Slurpee buyer.
The Claim
The Chill Factory says that it can freeze just about any drink that you can think of to put in it, including chocolate milk. They say that the reason it works so well is because of the "polar chambers" that are inside the cup. It's supposed to use a special material that gets the liquid super cold to the point of slushing without making it so it freezes. This keeps it at just the right temperature so that you can drink it, get the notorious brain freeze, and it won't go solid.
The Hype
The hype comes from the ease of use being displayed here. One of their top competitors, Slushy Magic, has to be shaken a lot in order to make it slush. This shows people simply squeezing the cup a few times and it making a slushy.
The Cost
The Chill Factory is sold at a price of $15 plus $9 shipping for a total of $24 per cup. That's a hefty price no matter how you cut it. UK residents are able to get it a bit cheaper, as it's sold for around $20 and includes free shipping.
The Commitment
If successful this will remove your need from having to buy slushies from places like 7-11 or other gas stations or convenience stores. It would also free you from the small choice of flavors offered at places like these and open things up so that you can choose whatever beverage you'd like.
Evaluation
Nothing causes more online debate than whether or not an at-home slushy maker works or not. There are always those on either side of the debate, some saying that it works, and others saying it's a dud. But one thing about The Chill Factory that we've noticed is that a larger majority of actual users are saying that it works, as long as you follow the directions to the letter. Often with a product like this that simplifies the way it works in the promo spot people will think that they just have to pour in the drink, squeeze it a bit, and just like magic it will make a slushy. But the included directions tell a different story. There are specific tips included to make sure that the results come out right.
Tips and Tricks
First, you'll want to make sure that you freeze the cup itself completely. For best results make sure that it has been placed in the freezer overnight, preferably in the back where the fan is to make sure it's getting blasted by plenty of cold. You'll also want to make sure that the drink you're going to add to it is properly cold. You wouldn't want to use a soda that is sitting at room temperature. They also say that after you add your beverage to the cup you can place it back in the freezer for 5 minutes to make sure that it's all thoroughly at the point of near freezing.
Final The Chill Factory Review
The Chill Factory is getting our Thumbs Up rating, as long as you take a peek at the included instructions and follow them to the letter. While the reviews from users are somewhat split, what we noticed as that the negative feedback was stemming from one-off problems with the product, usually caused by user error, and doesn't represent the bigger picture. The majority of those that try it report good results and no problems with using it. As long as you follow the above tips we've provided after scanning the advice from dozens of successful users, you should be all set and it's a good purchase.
Our Recommendation
This is a good addition to the home of any family that loves slushed drinks, but doesn't currently have a good way to make them at home. The cost is a bit high, but you can make it up with repeated use. Just be sure not to put this in the dishwasher, it needs to be washed by hand. It's best to wash it out as soon as you're done, especially if it's a sugary drink like a soda slushy, so that it doesn't get all sticky and harder to wash.
What do you think? Does The Chill Factory work or not?