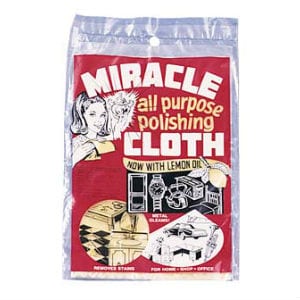 The Miracle Cloth is a cloth that is supposed to be able to clean just about anything and everything in and around your home. It's billed as the last cloth you'll need to buy, and some of the things it's claimed to do would really make it so it earns its miracle title. But how well does it really work?
Overview
It can sometimes be a little annoying with all of the different cleaning products it seems are needed just to get things looking good around your house. It seems each different item and room needs its own collection of sprays, brushes, and cloths just to get the job done. But here they're presenting a product that could be seemingly brought throughout the house to tidy up just about anything and make it look better than before.
The Claim
The makers of the Miracle Cloth say that it can clean a plethora of different items around the house, including musical instruments made of both wood and metal, tools from the tool box, doors and windows made of different materials, your car's bumpers and trim, a set of golf clubs, guns, fishing lures and hooks, motors, and more. They say that it's also good at removing things like scuff marks and heel marks from floors, as well as stains found in bathtubs and sinks, and can even take care of that nasty film that builds up on your car's headlights from driving around.
But it's the range of different materials that make the claims so extensive. They say it can work on basically anything, from that set of sterling silver cooking set you have to your plated silverware you eat with. They say it also works wonders on different metals like pewter, gold, chrome, steel, aluminum, brass, nickel, and bronze. They say it's delicate enough to use on your antique furniture and ceramic tiles, but tough enough to remove the corrosion from metal.
They say it's a polishing cloth, so you won't have to buy a bunch of polishing agents like pastes, powders, brushes, and more. They say that it's able to be reused again and again until the natural cleaning agents it's infused with get used up.
The Hype
At the end of the day there's only so much a cloth can do, right? The hype is in the amount of things they say it can clean, and the amount of time and money you could save if this does in fact replace other cleaning products.
The Cost
The Miracle Cloth is sold at their official site for $16.45, but you can find it at Amazon for $6. Both prices include shipping, and we're not quite sure what the reason is for the price discrepancy. Neither price is too bad if it does what it says it can do, or even a fraction of what it says it can do.
The Commitment
You'll still need to be the one that uses this cloth to get the items clean. But that will be the case until they get robots to clean up for us like you see in futuristic movies.
Evaluation
The Miracle Cloth is well-reviewed by the majority of users, and even scores well with professional cleaning product critics. There's no indication that this won't do a good job on the task you have in mind for it, and would be a good thing to have handy for your regular cleaning duties. At the same time, there's no way that it can clean everything, so there is a chance that you may have picked a job that it can't handle, but the likelihood is small, and at this price point even if it only works on 99 out of 100 uses it's still a great find.
Final Miracle Cloth Review
The Miracle Cloth is getting our Thumbs Up rating based on a slew of positive feedback from real users, and a long track record of success. They've piled on so many different uses for it, and it seems to be shining in almost every area. Obviously there will be some buyers that get it for a specific purpose and find that it didn't quite live up to expectations, but when you look at the full range of experiences it's easy to see that in most cases people are really happy with the job it does.
Our Recommendation
Basically, every home would need one of these for the different things it can clean better than whatever you're currently using. If you own a car, you should get this to keep it looking spiffy. If you have any sort of product made out of metal, including brass items, you should get this to keep them looking shiny and new. With all of the different uses it has you're sure to find something to do with it, and since they're not gouging you on the price it's a solid buy that you won't regret.
What do you think? Does the Miracle Cloth work or not?