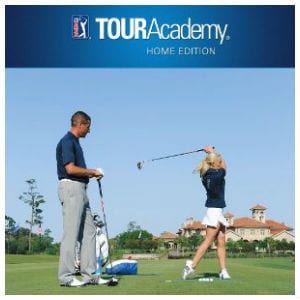 The Tour Academy PGA is the officially licensed golf training from the Professional Golf Association. They've created a "home edition" so that you don't have to spend hundreds of dollars to learn in person at a private resort, you can now get schooled in the art of golf from the comfort of your own living room. But does it work nearly as well as one-on-one training?
Overview
Mark Twain said that golf is a good walk spoiled, but with the proper training you can get your handicap down and make it even more enjoyable. They say that practice makes perfect but that's not quite true. Perfect practice makes perfect, and if you spend your time getting inferior golf training you're going to pick up some nasty habits and then reinforce them with drills at the driving range. Getting the right instruction and then practicing how to do it the right way again and again is the only way you can hope to see improvement in your game.
The Claim
They say that you're just 8 weeks away from your perfect swing Ian Baker-Finch is your host, and he turned pro at the age of 19, and managed to win two PGA tours and a bunch of other titles. He's not the only one walking you through what you need to know, there are three other instructors that may not have as many wins under their belt, but have been deemed worthy of being an instructor on this course.
The Hype
The hype is that this is coming straight from the horse's mouth so to speak. The PGA is as good as it gets in the world of golf, and getting instruction from anyone that hasn't won a PGA tour would have to be viewed as being less than optimal.
The Cost
The cost of the Tour Academy PGA home edition is $180 and they'll break up the payments into thirds if you want, with free shipping included. There is a 60 day money back guarantee, which is convenient because you can put them to the test to see if they really can get your swing looking perfect in just 8 weeks. It's the PGA so you know that you're not going to have any problems with a return, so you can breathe easy during the evaluation period.
The Commitment
Even though they've made this easy by allowing you to be taught at home, you'll still have to show up and follow along with all of the instructions they give you. They have a training calendar that fills up those 8 weeks, so you should block off time and make sure that you don't have any prior commitments and can focus on your training during this time. Make sure the weather will be good, don't start this in the dead of winter if you live in a climate where you can't get out and practice due to arctic conditions.
Evaluation
This is a comprehensive package, and they haven't left any parts of the game untouched. Of course it's just an at home training course so it's not going to be as customized as getting individual instruction from a PGA pro, but at the same time you aren't spending hundreds or even thousands of dollars for the know-how. What this does is give you a good grounding of the mechanics of your swing. If you follow along and take their advice and then go see a pro for more help you'll be able to start off at a higher level, and therefore save tons of time and money.
Depending on your level of the experience at the game of golf, you'll be taking different things from this course. If you're a relative newcomer this is a good way to get a firm grasp of the basics and shorten your time on the learning curve. If you've been playing for a bit but are self-taught this may help you get down to the bottom of a few of the problems you're having, and can supplement your own knowledge with those of professional golfers. If you've been playing for a long time and are looking to simply fine tune your game, you may not want to get this, as it may not provide enough information for you to feel that it's worthwhile. You may be better served by getting one-on-one help from a pro.
Final Tour Academy PGA Review
Overall, we're giving Tour Academy PGA a Thumbs Up rating, as they've done a good job of replicating the kind of tips and advice you'd get from a golf pro, and putting it into an at-home study course. This is no easy feat as there are many aspects to the game that make it hard to relay the information to a broad audience. But they've managed to use a nice mix of traditional instruction, tools, and training regimen so you actually have to practice what is being taught. That's the only way you can get this into your muscle memory so when you're out on the golf course you don't have to think about what you're doing, you can just let your body take over.
Our Recommendation
If you have a good track record of being able to be taught with at home materials, and you have the perseverance to use this to teach yourself from home, it's a great buy. Since they have it set up so you can get started for just $60, you can check this out for less than the price of a session with a golf pro, and have two full months to test it out.
What do you think? Does Tour Academy PGA work or not?