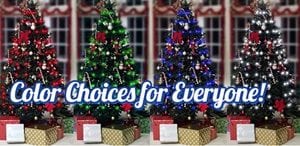 Its that time of year again to start thinking about putting up the Christmas tree and decorating it. While this is supposed to be a fun adventure it can end up being one that is really frustrating when you have to deal with the lighting. So perhaps the Tree Dazzler is going to be the solution for this.
Overview
Tree Dazzler is a new way of adding lights to your Christmas tree in a quick and easy way that also makes it a real show stopper.
The Claim
The promoters claim that with Tree Dazzler you can turn your tree into a spectacular show piece. This is done by using different lighting patterns that create a really unique and interest look.
The Hype
The hype really focuses on the way that Tree Dazzler is used. Instead of your lights being added in a horizontal arrangement they are applied in a vertical pattern. Right away this makes it sound like adding the tree lights is going to be a whole lot easier.
The Cost
The cost of Tree Dazzler is $39.99 plus $9.99 shipping and handling.
The Commitment
You are still going to have a bit of work ahead of you but it seems like its nothing compared to the traditional methods of adding the lights. All you need to do here is add the light ring of the Tree Dazzler to the top of the tree then position the series of lights down the tree in the position and pattern that you want them.
Evaluation
There are some great features that seem to be attached to the Tree Dazzler. First, they are tangle free which is a huge bonus. Then you have many options for creating intriguing patterns with them. Then they are promoted as being able to last a lifetime, which if true is a huge bonus in itself.Even better is the bulbs are said to be unbreakable. These are a lot of benefits that are just not available with the standard form of lighting.
Final Tree Dazzler Review
The promo material for the Tree Dazzler doesn't really indicate just how many lights you are getting in one complete set, although they are running promos for additional sets, so it makes one wonder if one set is just not enough. Other than this small concern overall the Tree Dazzler seems like a really exciting and innovative idea for tree lighting. It also comes with a ten year warranty which is pretty good. Based on what is being promoted we are going to give the Tree Dazzler a Try/Buy rating.
Our Recommendation
A lot of people who buy the artificial trees buy those that are pre lit. The problem is if a light burns out then its a big big chore trying to find which one needs replacing. Plus, you are restricted to the light pattern and colors that originally come with the tree. The Tree Dazzler eliminates all of these downfalls, even though you still have a little bit of work ahead of you to put them on. It really is intriguing to be able to form different light patterns, so this in itself is a big drawing feature for the product. If you are still set on getting a pre-lit tree then you may want to take a look at this National Tree before deciding.
What do you think? Does the Tree Dazzler work or not?