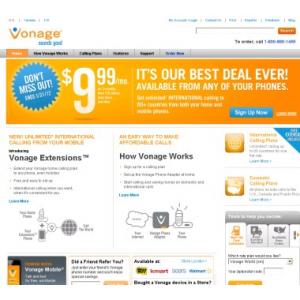 There are two parts to the question of whether Vonage works or not. The first would be those that wonder if you can really make quality phone calls with a real phone using your Internet connection. The second would be whether it saves you money over traditional phone service, and if it's a better option than other methods of making calls. So we looked into this to see what real users are saving, and what the average opinion is on the call quality.
Overview
Making phone calls using the Internet is not exactly a new invention, and people have been chatting with each other on things like Skype and Gmail for several years. With so many cell phone providers moving to all-inclusive packages for a reasonable monthly fee, a lot of people have simply gotten rid of their home phone service. A cell phone allows you to make calls to anyone in the United States, all for the same rate. In the future all calls will probably be made from cell phones, even international ones. But for now, it's necessary to seek out other options.
The Claim
The advantage of using Vonage over using your computer to make calls is that you're supposed to get the same clarity as you would from traditional phone service, and you can use actual phones and not a headset. They also say that their rates are better than the phone company's. They've also got international calling plans, so if you've got friends, family, or loved ones living abroad and have been looking for an economical way to call them, this might be right for you.
The Hype
You've probably gotten the distinctive tune they use in their ads stuck in your head. This is because they have a pretty extensive advertising campaign showing people crumpling up their old phone bills and tossing it into a pile of what is supposed to be other people's phone bills. They make a pretty strong case that using their service is better than staying with a phone company, and it's hard to argue with that, except for the fact that so many people have moved on from home phone service, that it's almost a moot point.
The Cost
There are a few different costs associated with using Vonage. You'll need to get high speed Internet if you don't already have it. If you're already paying for it, you won't have to pay anything extra to your Internet service provider in order to make calls. Vonage has different promos that they run. They've got one right now that gets you it for $10 a month for the first three months and then it goes to $30 a month, which does not include taxes and fees, and requires a one year agreement.
The Commitment
To get the best rates you'll have to sign on for a year. Setting up the box and starting to make phone calls is easy enough, and with the included instructions most people find themselves up and running right away, as long as you have all of the necessary components, including the high speed Internet modem, the Vonage box, and an actual phone. It's just a matter of plugging the Internet into the Vonage box, and then connecting your phone to the Vonage box. You should get a dial tone and be able to make calls straight away.
Evaluation
Vonage has a lot of competitors, and consumers have a lot of different options. For example, cell phones are cutting into their market and many people are dropping their home phone service altogether in favor of a phone they can take with them everywhere. For long distance and international calling a lot of people use Skype, which is free if you can get the person on the other end to download and install it. There's also products like the Ooma Telo which is similar to Vonage but doesn't have a monthly fee.
Traditional phone companies must have come to terms with the fact that many people just aren't using a home phone anymore, and all of the old phone providers have branched off into providing Internet in the form of DSL. When fiber optics comes around they'll likely be able to surge back, but they'll still have to compete with cable companies that also have the infrastructure laid out and will be able to provide it as well.
Final Vonage Review
Vonage works, you can make phone calls with it, but as to whether it's a smart choice economically will be up to your discretion and needs. Some people find that they can't live without home phone service, and for them $30 a month might sound good. You might also be able to get your cable, Internet, and phone service all from your cable provider for a package deal. You may also find that you can get by with using things like Skype and Gmail, having video chats with people instead of phone calls.
Our Recommendation
For some people this might make sense, if you want to make and receive clear phone calls from home and don't mind paying for them. For those that make a lot of international calls and find that the call quality of Skype isn't cutting it, this would be a viable alternative, and would most assuredly be better priced than what you're paying the phone company if you still have home phone service. But for most of us, a cell phone provides all of the calling features that home phone service does, and has the added ability to take it with us when we go out.
What do you think? Does Vonage work or not?