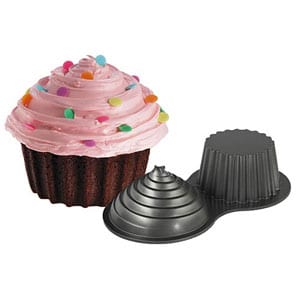 Why make ordinary sized cupcakes when you can make one giant one with the Wilton Giant Cupcake Pan? This uses ordinary cake batter to produce larger-than-life cupcakes that you frost just like a cake, but you can decorate to make it look like all sorts of things. So does this pan really work at making one big cupcake, or is this a flop that will end up putting a damper on the party?
Overview
These sort of desserts come in handy for things like birthdays, office parties, graduation parties, you name it. Even if you don't have an event to celebrate, it just makes a great dessert to have any either the week. If you wanted to make dessert time more fun, but didn't quite know how, this might be the answer for you. Decorating one of these can really showcase your creative skills, or it can be a time for your family to bond and just have fun.
The Claim
The Wilton Giant Cupcake Pan says you can make oversized cupcakes with its mold, allowing you to create fun desserts for birthdays, parties, or just because. There are so many different ways to decorate it, you might be able to even come up with ideas for events like Valentine's Day, Christmas, or Easter. For Valentine's Day, you could make a heart design on the top of it, for Christmas you can make it look like a Christmas tree, and for Easter you can frost it with pastel frosting, and stick chocolate Easter eggs on top of it.
They've got enough design concepts to keep your mind going when you run out of ideas, but still want to use your pan. They've also not an instructional video that will walk you through the entire process, so you won't have to wonder what a completed project will look like.
The Hype
Desserts are big business. It might not seem obvious, but people take dessert time very seriously. Anytime something new, novel, or fun comes out in the form of dessert, people will want to give it a try so that they can spice up their lives a bit. It's actually kind of cute, if you think about it. People just want to have fun, and dessert equals fun!
The Cost
Wilton Giant Cupcake Pan is about $25 and you can pick it up at Amazon. It's about the same price as other solutions, maybe a bit pricier.
The Commitment
This requires just as much commitment from you as making a cake would. You're still going to have to make and mix the batter, wait for it to bake, and then decorate it once it's done baking. Instead of looking at this as down time, you can make it an event for the whole family to get involved in. Kids especially like to see this cupcake cake form, as it really is pretty cool to put the top on and see a hefty cupcake take shape.
Evaluation
Wilton Giant Cupcake Pan gets good reviews overall. One common complaint is that the two halves do not cook at the same times, which causes a problem of one half being overdone, and the other half being not done enough. One fix for this is to put the swirl in for a few minutes and then take it out and add the bottom half, but this is a hassle, and they should have designed it so that it cooks evenly.
Other than that people are generally happy with its performance. They could benefit from having a center insert like their biggest competitor, Big Top Cupcake, does. This allows you to fill the inside of your big cupcake with any sort of filling you want. With The Wilton model, all you can make is ordinary cakes with it. This might be great at first, but after a while you might get bored with the same old same old, and wish you had a way to liven things up again.
Final Wilton Giant Cupcake Pan Review
Wilton Giant Cupcake Pan works, but expect a learning curve with it. Your first few attempts might be total disasters, but once you get the hang of it you should be able to make giant cupcakes whenever you get the whim. But be careful, because getting involved with these specialty desserts can be addicting. There are even cake top makers that can make bite sized cake balls that are even more fun to decorate.
One company, Babycakes, has a whole line of specialty dessert makers that allows you to make things like mini donuts, waffles on sticks, and donut holes. Before you know it you could end up with a kitchen full of dessert makers, and you'll have to buy new pants for your family if you're not careful.
Our Recommendation
We recommend going with one of the best giant cupcake makers out there: The Big Top Cupcake Maker. This is the first one that came to market, and all others can be considered imitators. It provides better directions, so you won't have to waste time with so much trial and error, and the material it is made out of is better at being non-stick than the metal pans like Wilton's. It also comes with a more extensive recipe book, so if your creativity needs a boost, you can get inspired and be on your way.
What do you think? Does Wilton Giant Cupcake Pan work or not?