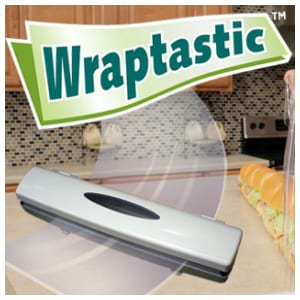 Wraptastic is a seemingly handy device that will help you avoid all of the perils and pitfalls of wrapping foods the old way. It replaces the box that comes with plastic wrap, aluminum foil, wax paper, and others and apparently takes away the hassle. But how well does it work when used in the real world?
Overview
Even though there's some exaggeration used in the infomercial about how hard it is to wrap up leftovers and other food items, they did get it pretty close to the truth. Between cutting yourself on the sharp edge of the box, and having the Saran wrap bunch up and cling to itself, it can become a part of the clean-up process that you dread. If it really could unroll evenly and cut the sheet with just the press of a button, it should be a staple in most homes.
The Claim
The makers of Wraptastic claim that all you have to do is pull the wrap to your desired length, press down on the unit, and wrap up your item of choice. They say it won't cut your finger because the blade it uses is hidden between two plastic slats. They also say that it's easy to change out rolls because it's spring loaded, so you can switch from plastic, to foil, to wax paper and not skip a beat. And because it has rubber feet it won't go sliding around on you when you're trying to pull out the sheet to your desired length.
The Hype
This has an infomercial to show all of its features, and while it's not entirely over-the-top, it does embellish a bit on how hard it is to use regular wraps. We all can relate to struggling with plastic wrap and aluminum foil, but not to the point where it looks like a circus act. Other than that, there isn't too much hype involved, and this product does address a real problem that millions of people can relate to.
The Cost
The total cost comes to $25 and this gets you a package of 2 Wraptastic units, and they come with a roll of plastic wrap and foil so you can load each one up and be ready to go without having to switch out rolls for different jobs. Even though this has a 30 day guarantee, since the price of the unit is less than the price of shipping, you probably won't end up returning it. It's one of those deals where you're taking a bit of a gamble on it, so you may want to wait until you can find it in local retail stores like Bed Bath & Beyond or in an As Seen on TV shop at the mall.
The Commitment
The major pitch here is that his is going to reduce the time it takes you to wrap up food, whether it's leftovers from dinner, or a food dish that you're taking to a party. Gone are the times when you'll make a mess of things because of your wrapping tools. If it works just like it's shown to in its promo video this really would ease up some of the unpleasant tasks in the kitchen, made more unpleasant by not having a reliable way to dispense the wraps needed to keep foods fresh.
Evaluation
The Wraptastic should work because it doesn't have a lot of movable parts, it's not battery powered, and it's not overly complicated. It's usually these types of products that end up performing as expected because there isn't a lot that can go wrong with them. There's also little room for user error. The only area it might falter on is being able to use any brand of plastic wrap or aluminum foil. There are some brands that are better than others, and you'll probably end up getting better results if you use the brands that have thicker foil and sturdier wrap.
Final Wraptastic Review
The Wraptastic is getting our initial Thumbs Up rating because it's attempting to solve a genuine problem that many of us have experienced. If you can't wait to find it in stores, perhaps you can gift the bonus wrapper and keep one for yourself to defray the cost. You don't really need two of them since one of the features is that it's easy to swap out rolls. While we're leaning to it working, there is a chance your experience will vary, and it won't live up to expectations.
Our Recommendation
We suggest finding this locally, but there may be quite a wait before it ends up being available offline. This would allow you to pay for the item itself and not all of the shipping and handling charges. It would also let you buy just one of them. It it doesn't work you can simply take it back to the store and get your money back. If you cannot find it locally, or would rather buy something similar online, take a look at the Stretch-tite Wrap'N Snap Dispenser.
What do you think? Does Wraptastic work or not?