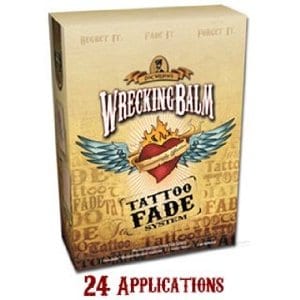 Trying to get rid of a tattoo can be tough, and Wrecking Balm will definitely appeal to you if you've sized up your options. Surgery is usually too expensive, and depending on where your tattoo is located, could be dangerous. Covering it up with concealers and make-up is a drag, and usually only goes so far. A fading system seems to make sense, as it would gradually fade your tattoo away, instead of trying to instantly turn back the clock. But does it live up to its expectations?
Overview
The process is twofold. You use microdermabrasion to expose the ink-stained skin and apply all-natural cream made of essential oils to break up the ink, allowing your tattoo to gradually get lighter and lighter. They openly admit that it will take time in order for you to see results, and for the tattoo to be entirely gone. Many of us that have a very noticeable tattoo, or a very silly tattoo would be quite happy just to have it be less noticeable, and eventually go away entirely.
The Claim
Wrecking Balm claims to be able to fade your tattoo away without the need of making an appointment with the doctor, without getting a prescription of any kind, without performing any dangerous procedures on yourself, without a strong burning sensation, and without using dry needles. The best part, they claim, is that you won't be stuck with any big bills to remove your tattoo, like you would with laser treatments.
Plus they point out that you can do all of this in the comfort and privacy of your own home.
They break it down into more scientific terms. From the official site:
The system attempts to combine the approved treatment of microdermabrasion in order to slough off the Epidermal layer of skin cells in order to lay bare the dyed and ink stained skin below. The conjunctive use of natural, herbal and inorganic compounds, Wrecking Balm has drawn a delicate and substantial balance necessary to provide the consumer with a safe, affordable, less invasive and less harsh treatment for the removal of tattoos or other body art.
So what they're saying is that by rubbing away your top layer of skin, you'll expose the stains from the tattoo, at which point you apply the cream which can go to work directly on the problem area.
The Hype
The hype is that Wrecking Balm is not only sold online, but has also made it onto shelf space at places like Target and Walmart. Any time a product goes mainstream like this, the assumption is that it must work or else the big companies would not allow it to be sold at their stores. Alas, this is not quite the case, and they will basically put any top-selling product on their shelves if there is a heavy markup.
The Cost
You can find the product offline at places like Walmart, or you can use a coupon code and get it online, either direct from the manufacturer's website, or through other online retailers. The usual price is around $50-$60 for a starter kit, and then $25-$30 for a refill pack.
The Commitment
This is a fading system, so you have to use this continually, with many applications over a long period of time for it to be able to do its job.
Evaluation
It is not FDA approved, because the FDA does not approve these kinds of products. It is made with natural ingredients, so they will not get involved with the matter. When they reference the fact that the FDA has approved the microdermabrasion process, that just means that Wrecking Balm uses the same process, not that the FDA has approved their specific product.
Active Ingredients
Some of the more important ingredients are Peppermint Oil, Walnut Shell Powder, Melaleuca Alternifolia Leaf Oil, Lemon Oil, Lavandula Angustifolia Oil, Hydravescent Cream, Theobrama Cacao Seed, and Shea Butter. All natural ingredients are great, because they're made from things found in nature, but the reality is that many of them don't actually do what they claim to do, and very little scientific backing has been found as to their effectiveness. The reason companies like to use them is because they're usually cheap to obtain, and you don't have to apply for FDA approval because they won't evaluate it.
Is Wrecking Balm a Scam?
Wrecking Balm might be pretty close to a scam, with so many negative reports coming in saying that the product doesn't work, and people complaining about the customer service that is provided. Although, there must be a few people out there that have had success with it, or it wouldn't have been able to get as big as it has in such a short time. Although this could be explained by the fact that there just aren't a lot of products out there competing with it.
Testimonials – What People Are Saying
Most people are saying that this does not work. There are those that have been trying it for many months that say that it hasn't made any difference at all.
Unfortunately, before and after pics on this sort of thing are far too easy to manipulate using Photoshop, so those are basically useless. Even a video showing that it works would be easily faked. There's just no real way to prove that this works, but hundreds of people saying that it doesn't work after long-term use is just too hard to deny.
Final Wrecking Balm Review
We're going to have to recommend a pass on this one, and give it a thumb's down. Judging from all of the negative feedback, there's likely little chance that this will work at removing your tattoo. While it's not expensive as some of your other removal options, it can add up over time, and when you diligently spend the time and money to follow their system, you don't want to do it all in vain and be back at square one months later with less cash in your pocket.
What do you think? Does Wrecking Balm work or not?