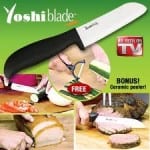 One knife that has many people asking if it works is Yoshi Blade. It's a strange looking little knife that makes big bold claims for such a small item. Can it really slice things as thinly as it shows, and will it really last a lifetime?
Overview
Knives, for whatever reason, are usually an easy sell. There's some sort of fascination with them, that probably dates back to samurai or knighthood times. It's great to use a tool that can convert raw fruits and vegetables into edible things. A good knife is indispensable to any chef or home cook.
The Claim
They claim that their knife is guaranteed to stay sharp for life. If it gets dull you can ship it back to them at their cost and they'll ship you another for free.
They go on to state that it will be just as sharp on day 500 than when you first started using it on day one.
They state that ceramic knives are 40% sharper than steel, and take 10 times longer to go dull. They show that you can slice tomatoes as well as bread, two items that are usually put to the test any time a knife is sold on TV. Tomatoes are known as needing a very sharp nice to slice thinly and cleanly. And bread is known to smush if you try to slice it with a dull knife.
Finally, they say that you'll have it forever, and that it replaces a drawer full of knives. And because it is ceramic they say that it won't rust, and it won't pit. The rusting makes sense, since it's not metal, but it still could pit, it seems.
The Hype
The hype comes from the longevity of the product. Saying that you'll be able to own something forever is a claim that gets people to spend money on things they end up replacing anyway at some point. It's unlikely that Yoshi Blade will be the last knife you ever buy, or that it will replace every knife in your kitchen, they way they'd have you believe.
They hype also comes from their lifetime guarantee. It's unlikely that it really is a no-cost guarantee, but even more likely that anyone ever takes them up on their offer. With normal use, there's no reason why the knife would get dull enough to go through the trouble of sending it in and waiting for it to come back.
The Cost
The Yoshi Bladde is $20 plus $10 shipping and handling for a total cost of $30. You also get the Yoshi Peeler, and depending on when and where you order from you'll either get a paring knife or a ceramic slicer as a bonus.
Overall they say this is a $100 value. It's not clear where they are getting this figure from, if they are comparing it to the $100 knives they mention in the ad spot. Professional chefs are known to pay hundreds of dollars for just one knife, so perhaps they are saying that their knife is professional grade.
The Commitment
If you're a kitchen nut and find yourself using a knife almost daily, no further commitment will be necessary on your part. You'll just have to try out the Yoshi Blade and see which foods it's best with. Because of its size you likely won't replace all of your knives with it, but you'll probably find that you prefer it for some tasks.
Evaluation
We were a little skeptical at first because the Yoshi Blade doesn't look like a typical, steel knife. Once you get past the way it looks and actually try it out, you see that it functions just like a high-quality, traditional knife.
The size can make it a little difficult to use, and you probably wouldn't want to use it in lieu of a chef's knife for chopping, dicing, or mincing large quantities of foods. But for many uses it's just the right size, not too big and not too small, and will fit most hand sizes.
Does Yoshi Blade Really Work?
It doesn't look like it could, but Yoshi Blade stands up to many of its claims, sliding effortlessly through tomatoes, and cutting up other fruits and veggies with ease.
While it hasn't been out long enough to test its forever claim, it doesn't really matter if it lasts that long or not. It will easily last 10 years with normal use, and it only costs $30 so that's an average of $3 a year or about a penny a day to have the Yoshi Blade.
Our Recommendation
If you're a wannabe chef and love kitchen gadgets as much as we do, you'll want to add the Yoshi Blade to your collection. You won't necessarily want to get rid of all your other knives as suggested in the commercial, but having a quality knife handy is always a good thing, and with the bonus gifts it makes this a smart purchase.
Official Website: Yoshi Blade
What do you think? Does Yoshi Blade really work?