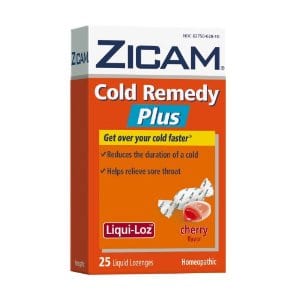 Zicam has been around for over 15 years and says that you can get relief from the symptoms of colds and allergies by using it. They say that it's a homeopathic product, which we'll describe more below, and we'll get into the real question of whether or not you should use it.
Overview
Homeopathic products are interesting because they blatantly state that they're mostly water, and have very few active ingredients. The idea is that you're taking the vibration or energy of the active ingredient and diluting is several times over. The energy is supposed to be amplified, and this is what causes it to be effective. It is often said that homeopathic remedies have fewer side effects, because physically speaking they're almost entirely water, and are therefore not problem-causing.
The Claim
The makers of Zicam say that it can help to relieve cold and allergy symptoms with a homeopathic remedy. They say it is "serious relief for stuffed up noses" and if you ask any of the users that lost their sense of smell if it's serious or not, they'd probably agree.
The Hype
The hype here is from bad press, both by the FDA getting in on the action by pulling it from shelves, and lawsuits against the company for undisclosed side effects. They say all press is good press, but in this case it's hard to see how someone would be tempted to try this after the allegations being made.
The Cost
We checked for Zicam at good ol' Wal-Mart and all of their products clocked in at under $10. This puts it on track with other cold remedies on the market, so there isn't any particular cost savings when going with this. If it can potentially help you not miss work, or avoid downtime because of a cold, it could be well worth the price, and worth trying out, but be sure to keep reading because there's more to this story than you might think.
The Commitment
This is meant to be taken at the early stages of a cold to help you reduce how bad you get it, and relieve the symptoms you already have. This means you have to commit to keeping a close eye on how you're feeling so that you can start taking preventive measures as soon as you notice the familiar signs. It's good that this is not a daily supplement, so you don't have to take it between colds for prevention, or every day as a way to keep things running smoothly. But if you are prone to colds and allergies you may want to find out how to boost your immune system, or get relief from those allergies on a long term basis.
Evaluation
There's a lot of controversy surrounding Zicam and its side effects, including settlements that have been paid out by the company to users that said they lost their sense of smell due to it. It's quite interesting to note that while the company hasn't officially admitted that their product caused these effects, why pay the settlement? Why not simply disprove the allegations? Perhaps in the court of law paying a settlement is not an admission of guilt, but in the court of public opinion it's pretty understandable why a company pays settlements. It's usually in their best financial interest to do so, and is less expensive than admitting anything and recalling the product.
It gets the label "unapproved homeopathic" which basically means that it hasn't been approved by the FDA. This might be cause for some to not buy it, but when you consider how many pharmaceutical drugs have been recalled after being approved by the FDA, it's pretty much an arbitrary approval. That being said, it matter greatly what your thoughts are on homeopathy in general, and whether or not you think that a heavily diluted substance that is mostly water can have a positive effect on the condition you have.
Final Zicam Review
Whatever results Zicam may or may not provide, it's not worth risking your sense of smell over. For this reason we're giving it our Thumbs Down rating and recommending to choose other options. You've only got five senses, and it's not worth putting one of them on the line just to unstuff your nose. There are plenty of natural remedies you can try before even resorting to a medicine, whether it be an OTC drug, or a prescription medication.
Our Recommendation
The conditions that this is supposed to treat are quite common, and there are several different options for you to choose from in regards to treatment. Going with a product that doesn't have a checkered past is always our advice, and it's hard to look past the claims being made, and the settlements being paid out.
What do you think? Does Zicam work or not?