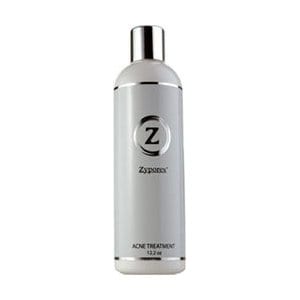 Got acne? Millions of adults do, and the problem just keeps getting worse. Zyporex hopes to change all of that. Regular acne medications sometimes just don't fit the bill when it comes to moderate or severe acne conditions, so what can a person do to cure their acne and clear up their face? Before you give up and move on to prescription acne medication, you might want to consider giving Zyporex, a natural acne cleanser, a whirl.
Overview
Zyporex is an acne medication for any form or severity of acne conditions on anyone of any age range.
This facial scrub is advertised as one hundred percent chemical free, containing over thirty different
nutrients to help cleanse the skin naturally without clogging pores with excess oils or dirt. Some of
these natural ingredients include aloe vera, avocado oil, and tea tree extract. These ingredients all work
together to form one cleanser for daily use. By using it once a day, your acne is supposed to clear up in
mere weeks.
The Claim
They claim to do what virtually all acne medications claim to do – clear up your skin without
harming it in any way. Commence the eye roll. Every acne medication on the market may say it's the
best out there, but clearly it's not if it's not working for you. So how do you know that Zyporex is the
best?
One of their most intriguing claims is the once daily use, and just having one product. With other systems out there requiring a morning and evening session, and multiple bottles at different times of the day, and different creams and lotions for different types of acne, this is a pretty impressive and bold claim getting everything down to one bottle once a day.
The Hype
The hype comes from them claiming to be one of the only all natural skin cleansers on the market today that will actually clear up acne and leave skin in a better condition than when it was first applied. Promising to clear acne in simply one step and one usage a day, Zyporex certainly tries to create quite a name for itself. This product promises to deliver significant results within three months, conveniently the period of time that each bottle of the product is supposed to last the average consumer using Zyporex.
The Cost
For just thirty dollars, a three month supply of Zyporex can be yours today! This, compared to drugstore acne medication, is not very pricey, and if you pit it against the leading competition in prescription acne medication, this truly is a steal. So should you drop thirty dollars on Zyporex or not?
It would be pretty amazing to have a product that you only have to use once a day, and that only costs a few dimes per use, if it got the job done.
The Commitment
This is a one use a day product to be used every day during your regular shower routine. It can be
used as a cleanser for the face as well as any other parts of the body that develop acne. Simply wet your
skin, lather it up with Zyporex, and rinse. It's that easy to use, and doesn't involve a multi-step process or multiple products to buy.
Evaluation
Zyporex may be an all-natural product, but that doesn't mean it is altogether the best. Consumers
who have bought Zyporex have often complained that this cleanser doesn't actually clear up their acne like it promises. In fact, most customers that have complained about Zyporex claim that it simply brings
out their acne more so than before, going so far as to dry out their skin and damage it. On the brighter
side of things, all users seem to report that Zyporex is a good smelling product, which is a consolation
prize at best for being faulty.
Because this product can only be ordered online through the Zyporex store, many customers have also found that the website has poor customer service, not responding to claims or complaints and generally taking too long to ship items. These sort of complaints against a company and product simply can't be ignored when you're about to invest some serious coin in an acne face wash.
Understanding Acne

Final Zyporex Review
When it comes down to it, Zyporex is not a product that is worth spending your hard earned money on
simply to have your acne symptoms worsen with time. For thirty dollars, experiment with a few other
different acne cleansers until you find the right mix of treatments that best fits your skin. Risking using Zyporex will not be worth anyone's time.
Our Recommendation
Zyporex may be made with all natural ingredients, but that is no reason to buy a product if it does
not work. Save your money, invest in other medications or cleansers, and don't waste your time with
waiting three months to see if Zyporex will work for you.
What do you think? Does Zyporex work or not?